We love to meet our individual members, learn about and share their stories on what inspires them in their personal lives and in the workplace. Selina Blain is Operational Admin Support in the Operational Policy and Assurance Department based at Cheshire Fire and Rescue Service Training Centre. In June this year, Selina joined us as an Individual Member, a 'Super Supporter' after experiencing her first WFS National Training and Development Event as a delegate.
In March 2013, Selina joined Cheshire Fire and Rescue Service as a receptionist in HQ Winsford. She then worked in Prevention's Safety Central in 2016 for five years, and now Selina is back at Winsford (now the Training Centre) in Operational Assessment (OpA) booking training courses for firefighters.

We caught up with Selina to find out about her first-ever experience of our national event at The Fire Service College and what advice she'd give to others who have never been before.

What advice would you give to someone thinking of attending the event next year?

A lot of people are worried about being 'the odd one out', not being with their friends or Fire Service. Don't be afraid, you will be with like-minded people, they will be feeling the same. You WILL make new friends, have lots of fun and try new things.

Don't worry about the workshops; don't be afraid to try new things. There are so many qualified firefighters there who will be there for you every step of the way. The event was amazing, beyond what I was expecting. The WFS Team was fantastic, as were the instructors. I tried things that I would not normally have tried. I never thought I would make so many new friends. We have already made plans to meet!

You chose to do Abseiling, Drive an Appliance, and Urban Search & Rescue (USAR) workshops. Which did you get the most out of and why?

I have or had a fear of heights and I really wanted to do abseiling to overcome this. This was the ideal place, with experienced instructors. The group I was with was very patient, supportive and encouraged me to go through with it. I conquered my fear and felt a sense of achievement. I also enjoyed driving a pump. In no other place would I have been allowed to experience this.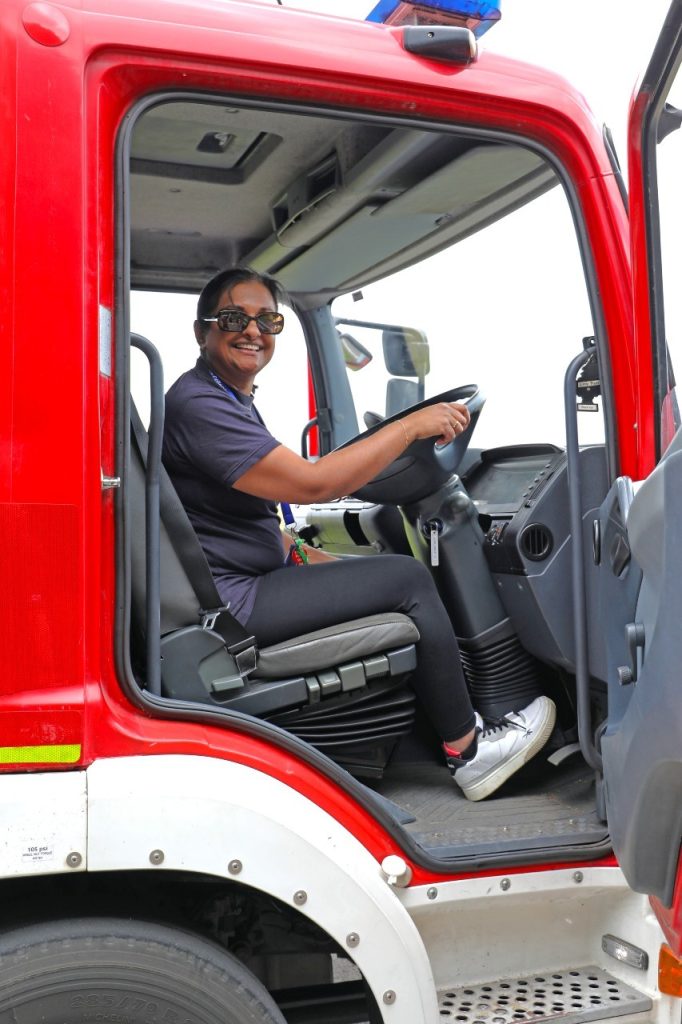 Who or what inspires you?
No one in particular but anyone who, faced with adversity, especially misogyny and challenges this. In the FRS it would be Lynsey McVay (she worked at Cheshire) and Dany Cotton. Inspirational women who became Principle Officers and have motivated others, not just women.
There are so many inspirational people in the world. It would be hard to name anyone. From women having the right to vote, having an education, equal rights for BAME and LGBT. There are people who have a disability and take part in the Paralympics. People who do not allow this to hold them back to allow them to follow their dreams.
What does being a member of Women in the Fire Service UK mean to you?
WFS is not just for Ops staff. It is for like minded people who support each other. An organisation that values its members and listens to them. It's nice to be with people to actively promote diversity and who believe in making a difference. This is why I joined.
Thank you Selina for sharing your thoughts with our readers.
If you'd like to become a WFS supporter like Selina, please join us by becoming an individual member.