The Women in the Fire Service UK National Executive Committee (NEC) includes our Directors, Regional Representatives, Executive Members and Co-opted Members. This makes up our governing body – a maximum of 25 people. The NEC meets three times a year or more, to vote, share successes and report on projects. Our Local Representatives also attend these meetings, and although they are not part of our formal governance, Local Reps play an important part in the NEC.

Our committee meetings are a chance to raise issues and inspire change – bringing together people from Fire Services across the UK to share, reflect and learn. The NEC is also a great networking forum, where we celebrate inspired ideas, work and initiatives across Services. A great reminder of why we do it! The National Executive Committee meeting minutes are public and available here.

Meet some of our committee below!
Our Executive Members
Divine Zake – Communications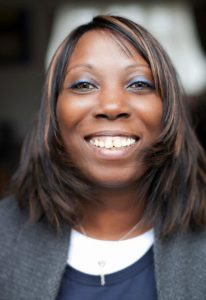 Divine joined the London Fire Brigade (LFB) in 1996 as a temp, becoming permanent in 1997.  She has had various jobs at LFB, and in 2015 joined the Resource Management Team as Team Supervisor.  In 2017 she received her 20 years Long Service Certificate.
Divine maintains she put her hand up by accident when they were voting in Executive Committee members and that's how she got the role at WFS – now it's a role she couldn't possibly see herself giving up! She realised how important it was to have WFS when she was supported through a very difficult part of her life.  Being a part of WFS gave her chance to flourish and support other members, and inspired her to get rid of the so called divide between different occupational groups. WFS has helped her celebrate lots of wonderful things in life such as promotions and the birth of her grandsons.
Her role as Communications/Merchandise Officer has boosted her confidence and has given her the chance to enhance people and social media skills. Divine is the RMC/Control Rep but has also had active roles in other Support Groups not only in the London Fire Brigade but also in partnership with other partners in the GLA – which has included being part of the team which run the LGBT Leadership Programme in conjunction with Transport for London and the London Ambulance Service.
Favourite hobbies include juicing, dancing, walking with friends, hula hooping, trying to beat personal bests on Nintendo Wii and reading.
Sara Hall – Positive Action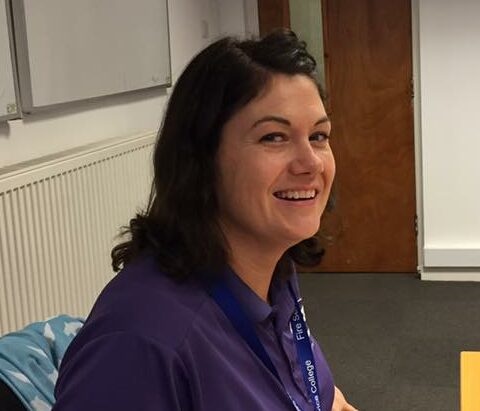 Sara joined West Midlands Fire Service in 2006 where she was a Crew Commander. Since 2019 she has been a Watch Commander at Hereford and Worcester Fire and Rescue Service.
She has been involved in Women in the Fire Service since 2007, almost as long as she has been a Firefighter. Sara's roles with WFS are Regional Representative for the West Midlands and Positive Action Lead. 
Sara loves being part of a great group of women, who have given her encouragement, introduced her to an amazing peer group, and always been there for advice and support.
She lives in Worcester with her son and enjoys open water swimming, mountain biking and baking cakes.
Lynsey McVay 
Lynsey is Assistant Chief Fire Officer at Tyne and Wear Fire and Rescue Service. She has also worked for Cheshire Fire and Rescue Service and Cumbria Fire and Rescue Service.
She has been involved with WFS for many years and is passionate about the development of women. 
She enjoys crossfit, walking and spending time with family and friends.
Vicky Wallens-Hancock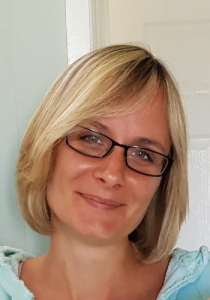 Vicky joined Cornwall Fire and Rescue Service in 2005 as a risk analyst. Having undertaken various management positions within Cornwall, she was proud to be promoted to the role of Assistant Chief Fire Officer in 2017 with the responsibilities for people, assets and enabling services.
Vicky loves Cornwall and feels very lucky to spend time out of work with her husband, two amazing children and a crazy golden retriever enjoying the beautiful Duchy has to offer. She is incredibly passionate about the fire service and became involved with WFS a number of years ago.

"If it hadn't been for the amazing role models across our sector then I wouldn't have had the confidence or courage to be where I am today. That is why I am so enthusiastic to be involved with this amazing network."
Vicky became an Executive Member in June 2022.
Our Regional Representatives


Hannah Lodder (Mid & West Wales)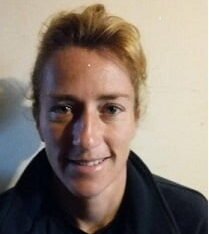 Hannah joined Gloucestershire Fire and Rescue Service in 1998. She worked in Warwickshire as a Leading Firefighter, Hereford and Worcester as a Leading Firefighter, Watch Commander and Firefighter in Business fire safety, Operational Intervention and on station.
She moved to Mid-West Wales on secondment in 2015 as a firefighter and was then seconded to the Strategic Risk Review Team as a Communication and Engagement Advocate.
She has been involved in Women in the Fire Service for many years and loves the support and to be part of a great group of women. Her current role is Wales Regional representative for WFS.
Elizabeth Curtis (South East)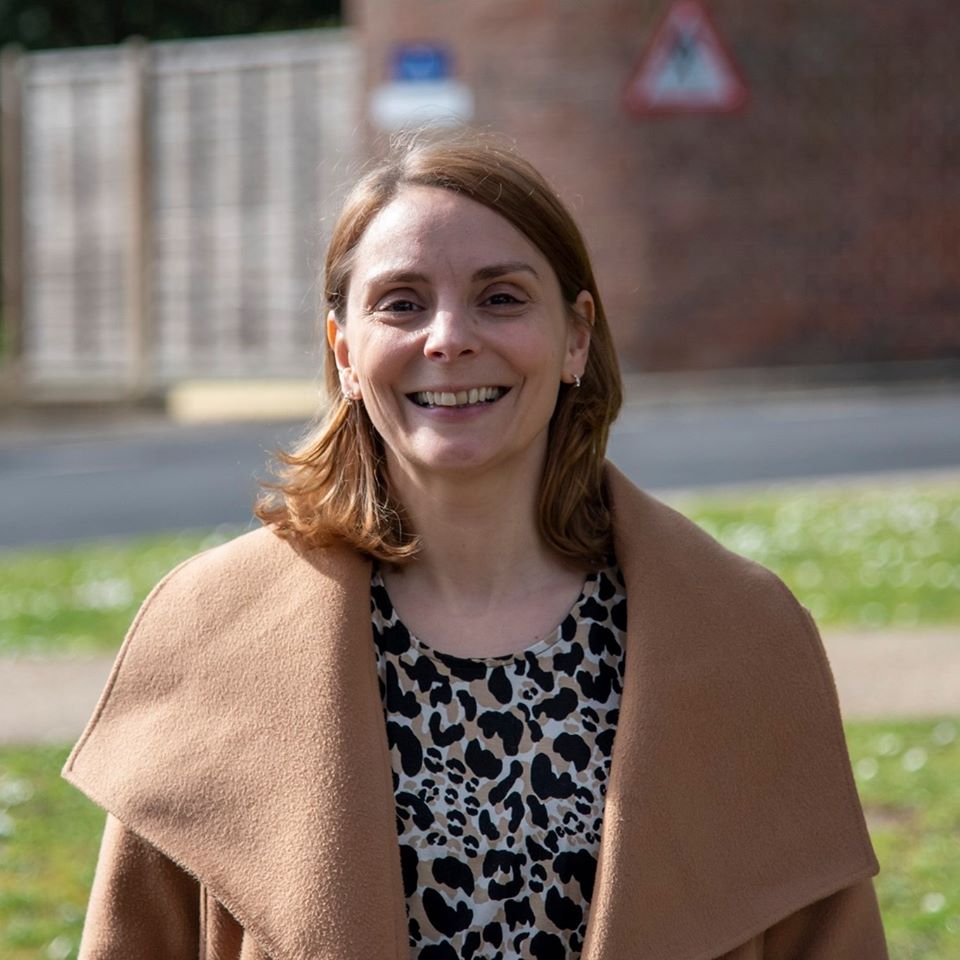 Elizabeth Curtis is Communications Manager at East Sussex Fire and Rescue Service. She only planned to stay a couple of years when she joined in 2013, but found it such a great sector to work in she couldn't ever imagine leaving! Elizabeth has benefited from working with some really inspirational women. She names Cheryl Rolph, Jules King and Dawn Whittaker among many others! She wants to use her communication skills to give others the same opportunities she has had. And she is keen to encourage some of her non-operational colleagues to get involved with WFS too as she's had such a positive experience attending WFS events.
Elizabeth said, " I love to look at the bigger picture, as too often in life we can get stuck in a rut and keep doing what we've always done. Everything I have seen about WFS makes me look up and outwards to see what else is happening and how we can make things better. If we ever meet I am most likely to start chatting about either food or my lovely little nephew who I spend most Saturdays with having races! Am not a natural athlete but I even did Couch to 5K to be able to keep up with him!"
 Daisy Byron (East)
Daisy's journey with Bucks FRS began in September 2003. Starting as an Operational Fire Fighter, Daisy transitioned into the role of Full-Time Green Book Fire Safety Inspector in November 2015 after medical retirement.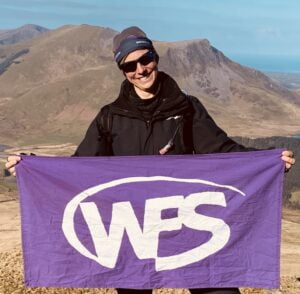 In August 2019, Daisy took on the position of HMO Lead Fire Safety Inspector with Beds FRS. In November 2020 she was offered a temporary promotion to Area Fire Safety Manager for Development, followed by a permanent promotion in May 2021. This marked Daisy's first time as a manager, responsible for leading a team of 12, a role earned after successfully passing the Middle Manager Gateway. Daisy celebrated 20 years service across 2 services (with no break in service) in September 2023 —an achievement that fills Daisy with pride.
After being invited to WFS Training and Development Weekend in June 2022, this reignited her passion for firefighting. Inspired by the experience, Daisy stepped forward to become the WFS Regional Rep. While currently holding the rank of AFSM, Daisy eagerly awaits the opportunity to pursue the Group Commander Gateway when it becomes available for Support Staff, a privilege currently limited to Grey Book staff.
Outside of work, Daisy enjoys time with family, caravanning, embracing the challenges of long hikes and wild camping, music and dancing.