Welcome to the Women in the Fire Service UK
Formally known as Networking Women in the Fire Service, WFS was formed in 1993.  It is a voluntary, not for profit organisation with members from across all roles within the FRS community.  It is run by elected committee members who direct the business of the organisation.
18th National Training & Development weekend – 8-10 June 2018 –'Building confidence for a stronger future'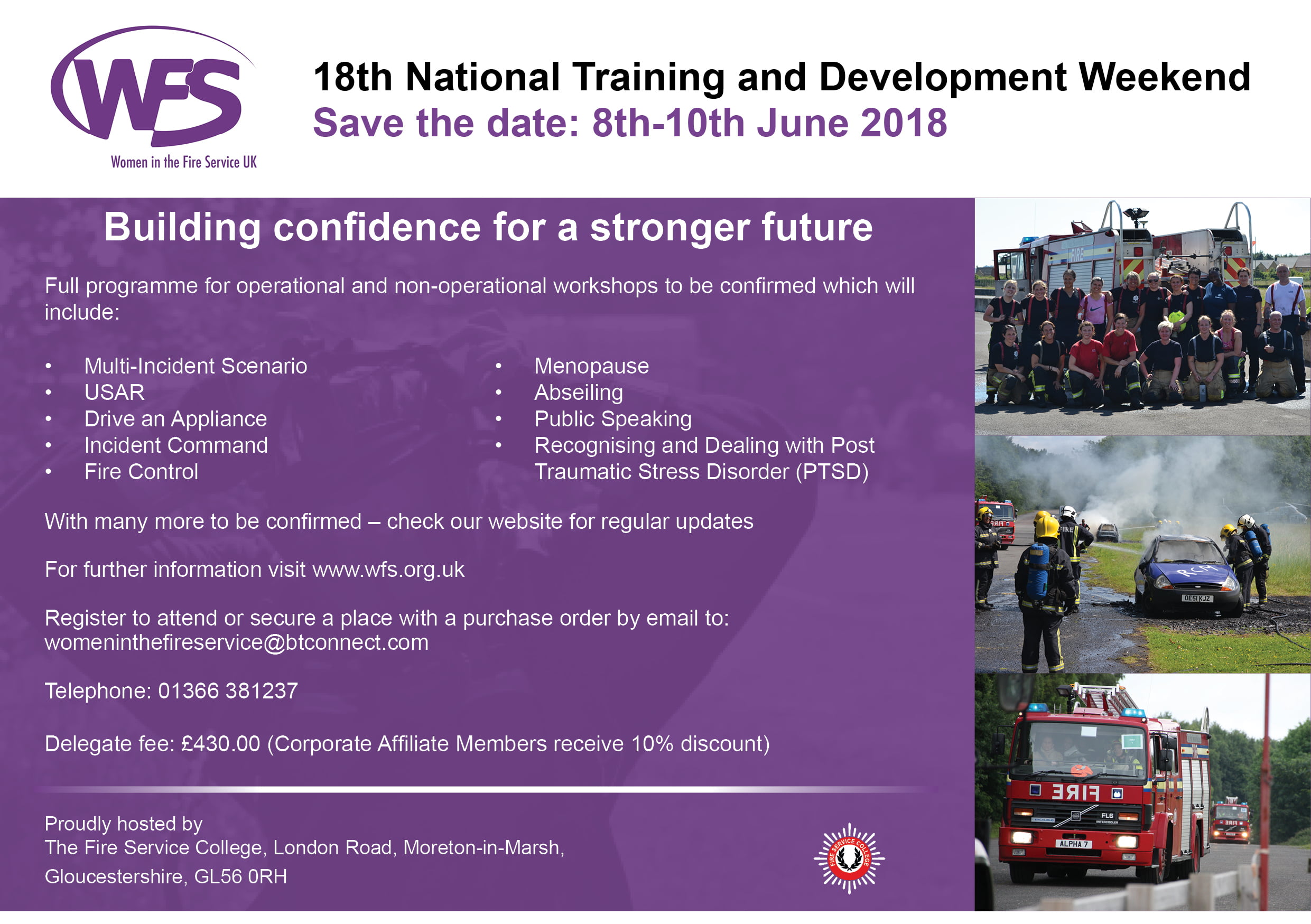 The 18th Training & Development weekend will be hosted at the Fire Service College and is a great opportunity for both operational and support delegates to utilise the state of the art training facilities.
Our Events Management Team is working hard to secure new  workshops such as Fire Control, Menopause, Fitness Test, Fire Behaviour, Public Speaking, Interview Techniques and  Abseiling as well as the popular long-standing  Multi-Incident Scenario, USAR, Be a Firefighter, Drive an Appliance and  Incident Command.  The aim is to accommodate many more delegates this year, so why not ask your service to commit to sending  delegates early on—or, even better, request a purchase order number as payment will secure your place.
The fee to attend is £430.00 per delegate (inclusive of food and accommodation). Corporate Affiliate Members receive a 10% discount.
Full details and booking form will be available by the end of February.
Launch of Women's Development Programme 
WFS are delighted to be launching a Women's Development Programme facilitated by Emma and Jenny from 'Women to Work'.
WFS Awards 2018
Do you know a person and/or organisations that has given significant support to the WFS or has made a positive contribution to support women working within a service, and to individual women who have achieved particular success within the Fire and Rescue Service.
To find out more visit the Awards page.
Nominations can be submitted by completing this Nomination form and emailing to Karen Smith at contact@wfs.org.uk
"Successfully Managing Your Work Life"
This is a great opportunity and the programme will cover the following areas:
Work Life Stages

Role Models

My Ideal Future

Values & Behaviours

Achievements, Strengths & Skills

Working Identity

Change & Transition

Personal Development Plan Reflections: Your Journey So Far

Focus on Planning: Life Plan, Goals & Action Plan
All delegates will be provided with a Personal Development Plan Workbook and a range of self-coaching tools to use during the workshops and in the future.  This programme will be delivered over 3 half day workshops for a maximum of 20 women.  The cost is £265.00 per delegate (£245.00 for WFS Corporate Affiliate Members)  If accommodation is required booking and payment will be the responsibility of delegates and their Fire & Rescue Services.
Those wishing to attend must have the support and be sponsored by their Fire & Rescue Service.  Authorisation will be required by email to WFS.
For more details or to book your place, please contact: Karen Smith (WFS)
Dates and venues to be confirmed shortly.
Women's Development Programme Leaflet
Email: womeninthefireservice@btconnect.com or call 01366 381237
 17th National Training & Development weekend held at the Fire Service College on 16-18 June 2017
What a fabulous weekend we had at our Training & Development weekend on 16-18 June.  We welcomed 185 delegates from over 32 National Fire & Rescue Services ………. read  more  Training & Development weekend
Summary of delegates feedback 2017
Confirmation of dates for 2018 – 8, 9 & 10 June – book in your diary now!
Emergency Services Show – 20/21 September 2017
We have had two successful days attending the Emergency Services Show  at the National Exhibition Centre in Birmingham.  It was a great opportunity to make contacts and thank you to everyone who visited our stand.  Looking forward to attending next year – 19-20 September 2018 (stand T13)