We were thrilled to celebrate our National Training and Development Event, 10th-12th June 2022, marking the 20th for Women in the Fire Service (WFS). The first in-person national event since 2019, the theme was 'See it, be it – role models for the future'. The event was supported and sponsored by our main sponsor MSA Bristol, and Draeger and Skills for Justice Awards (SFJ Awards).
The afternoon of Friday 10th June saw over 200 delegates from across the UK gather at The Fire Service College in Gloucestershire. Over three days, fire professionals learned and developed together, supported by over 50 instructors from the sector.

We welcomed attendees of different genders from more than 30 different UK Fire and Rescue Services including delegates from Cold Cut Systems, Cork City Council, The National Fire Chiefs Council (NFCC) and The Institution of Fire Engineers.

Event exhibitors included MSA Bristol; Cold Cut Systems; Antarctic Fire Angels; PTSD999; The Fire Fighters Charity; The Institution of Fire Engineers; Serve and Protect Credit Union; and SFJ Awards.
Just some of the roles of the staff attending, were: Fire Control Operator, Rookie Red, Administrator, Station Manager, RMC Operative, ICT Technician, Community Safety Officer, Prevention Manager, Payroll Assistant, Stores & Supplies Manager, Apprentice Firefighter, HR Coordinator, Fire Engineer, Water Officer, Youth Engagement Officer, Physiotherapist and Fitness Advisor.
Despite coming along by herself, Northern Ireland Fire and Rescue Service delegate, Rachael Garrett, a Crew Commander from Belfast International Airport, was excited to be at the event once again.
"I first attended the WFS Training and Development Event in 2016 as a retained firefighter with Northern Ireland Fire and Rescue Service. Ever since then I've wanted to return due to the numerous benefits it provides. It was a little daunting and there was a moment when I thought – "I am going here on my own and I don't know anyone!" But I had nothing to worry about as everyone was so welcoming."

"This is an invaluable event for a range of different people within the fire service. You get to network and connect with a wide range of people who can offer advice and support with challenges within your workplace. It is a safe and informal way to learn new skills and challenge yourself especially when moving up ranks and going for promotion. The workshop selection and the knowledge and expertise of the trainers was of a very high standard. I attended Incident Command in the sim suite, First Aid and Trauma Training and Fire Safety in Commercial Buildings."

"It is an event that will leave you motivated and inspired to focus on your personal goals and encourage you to bring your best to work every day! I will be back and I aim to bring more of my colleagues next time."

Crew Commander, Rachael Garrett
Seeing is believing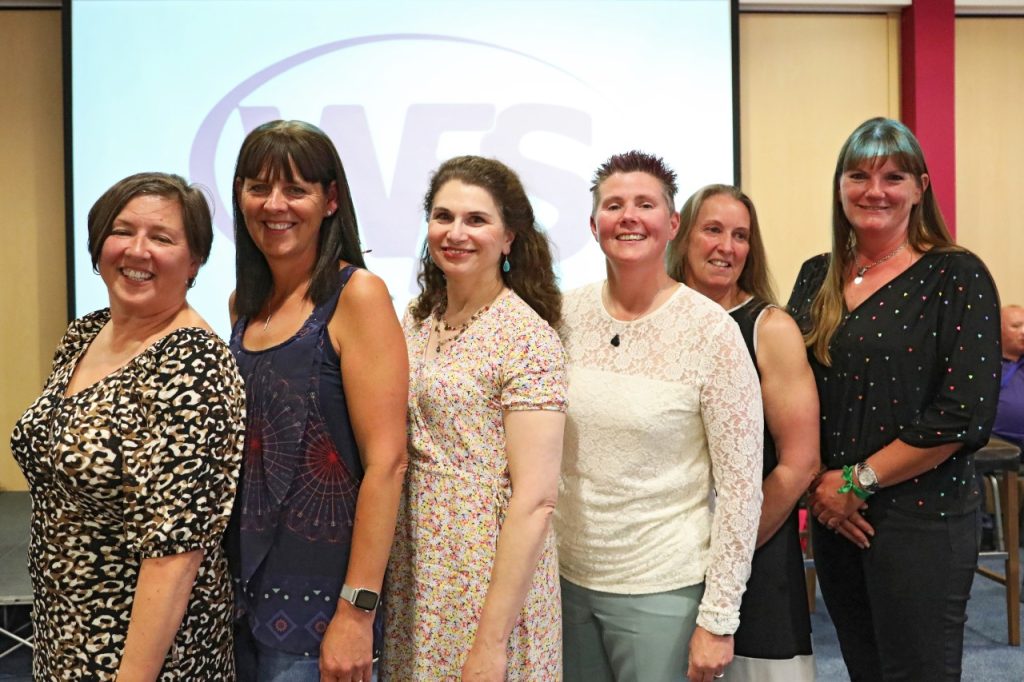 After Friday's registration, and a 'Find a Buddy' icebreaker activity and networking, the regional meetings took place. The event continued with an address from WFS, followed with a welcome on behalf of the hosts, The Fire Service College. The Opening Ceremony was sponsored by Draeger Medical UK.

Next came a powerful Q&A with a panel of past and present leaders on stage: Alex Johnson (former Chief Fire Officer at South Yorkshire Fire and Rescue); Dany Cotton (former Commissioner of the London Fire Brigade); Dawn Docx (Chief Fire Officer at North Wales Fire and Rescue Service); Dawn Whittaker (Chief Fire Officer at East Sussex Fire and Rescue Service); Kathryn Billing (Chief Fire Officer at Cornwall Fire and Rescue Service); and Rebecca Bryant (former Chief Fire Officer at Staffordshire Fire and Rescue Service).

They spoke about the gender imbalance, diversity and inclusion in the fire sector, role models, inspiring others to achieve and to realise possibilities, how interesting and enjoyable the sector can be, and how everyone can encourage diversity and individuality to flourish.

The Awards Ceremony completed the evening, with recipients of the Women in the Fire Service Awards 2022 recognised and rewarded with prizes and accolades. Amy Croxton-Evans, Faatimah Mangera, Jenny Nangle, Liana Selecka-Jones, Rebecca Rowe, Sue Mallinson and Stefan Douglas attended in-person. Representatives from both Services and Award Sponsors collected awards on behalf of Uroosa Arshid, Hannah Caulfield and Katie Bluck.

Award Sponsors were Cold Cut Systems, Greater Manchester Fire & Rescue Service, Merseyside Fire & Rescue Service, NFCC & Cornwall Fire & Rescue EPA Partnership, and Serve and Protect Credit Union.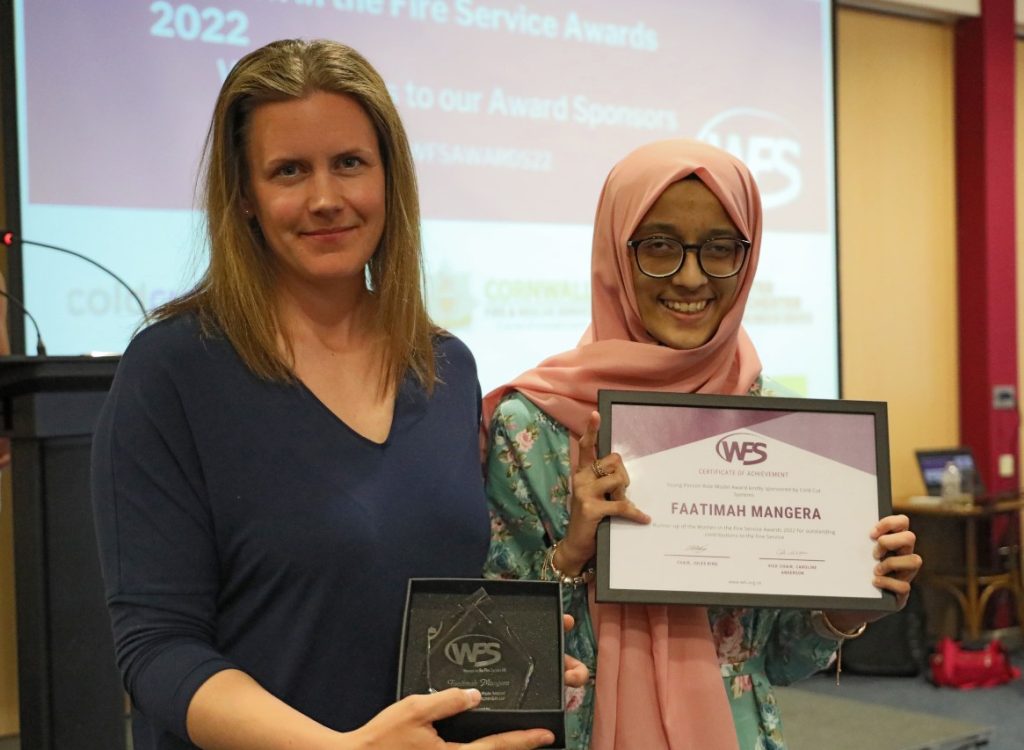 Runner-up of the Young Person Role Model Award was West Yorkshire Fire & Rescue Service Volunteer, Faatimah Mangera. Faatimah, who is partially sighted, has delivered disability awareness sessions to groups of young people who she has peer mentored, and has helped shape the way the Youth Interventions Team works with young people.
"Attending the Awards Ceremony meant that I could celebrate, acknowledge and share everything I have achieved in the last two years! It's actually very easy to forget how far you have come sometimes."

West Yorkshire Fire & Rescue Service Volunteer, Faatimah Mangera
Shaping the future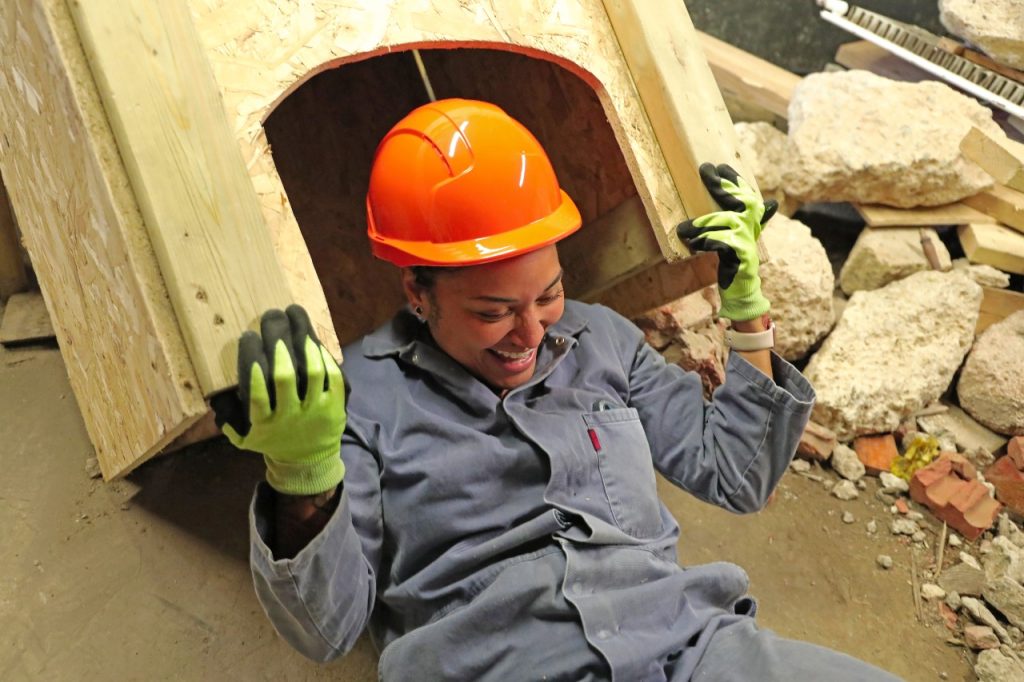 Delegates had the opportunity to network with a diverse range of sector professionals, share best practice and knowledge in a supportive environment, and were encouraged to step out of their comfort zone, be inspired and inspire others. Jules King, Chair of WFS, reflected on this year's event.
"We were delighted to be back at The Fire Service College. Standing on stage on Friday night I saw many new faces. This is a real positive and goes to show there are other people who had the opportunity to attend and invest in their development. We also had many younger delegates attend with less experience in the Service, so it's good to know this event has attracted those new to the sector. It's been a long time coming, and there was such a buzz and a real sense of excitement. I spoke to many delegates throughout the event who told me about the positive experiences they'd had, what they had achieved and what they had overcome. All of them are role models."

WFS Chair, Jules King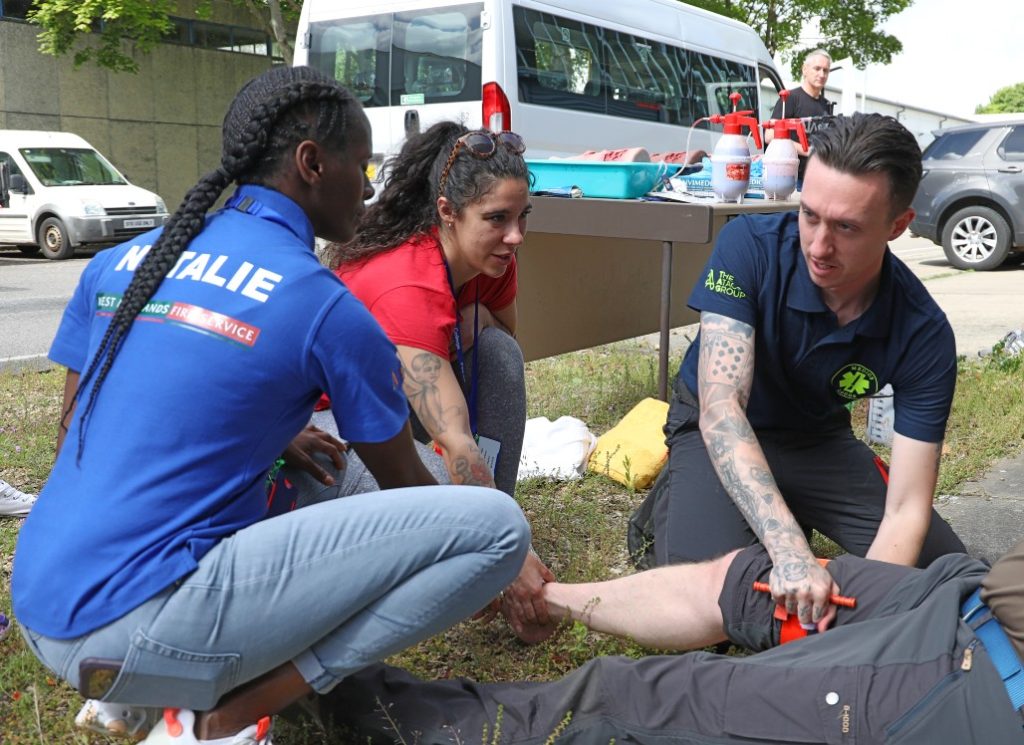 From inspired to inspirational
The Keynote Speakers were The Antarctic Fire Angels (AFA) whose idea for an expedition across the Antarctic was realised at the WFS Training and Development Event in 2019. The team was inspired by our Keynote Speaker, Sophie Montange, from the Army's Ice Maiden team.
It was a privilege to have the whole team at the college. On Saturday evening, the AFA team, Emily Butler, Georgina Gilbert, Nikki Upton, Rebecca Rowe (Becky Hinchley had to leave as she was on duty) presented on meaningful topics and answered inquisitive questions from the audience with passion, humour and honesty.
They spoke about their mission to inspire women and tackle the stigma of mental health. And touched on topics such as work life balance, the challenges of the pandemic, cold weather training and the importance of high quality kit. They also highlighted their personal and team struggles, achievements, facing adversity, and the joys of team building, sharing strengths and breaking down barriers.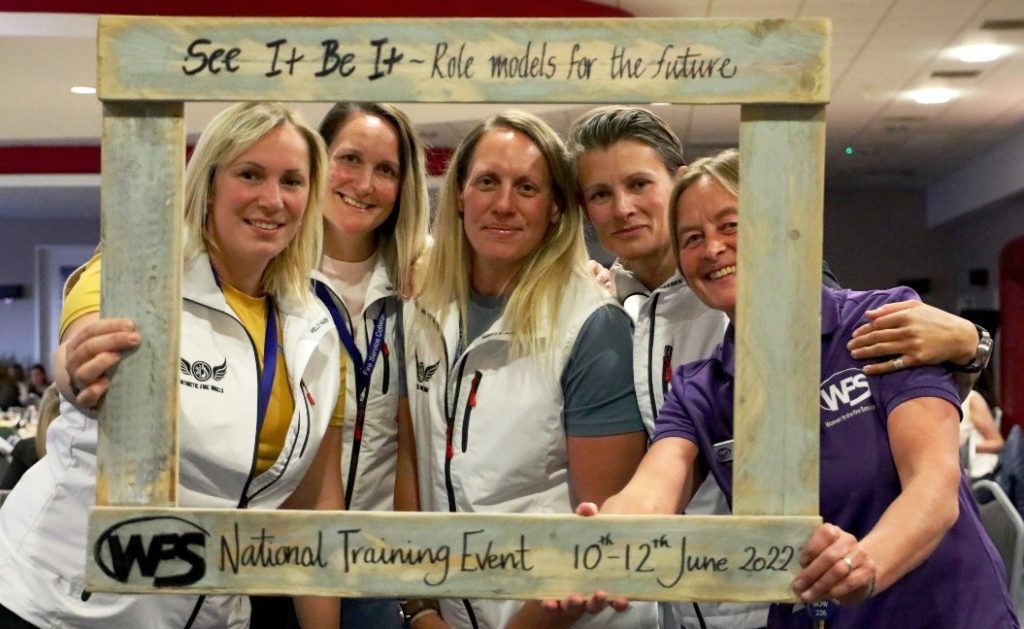 Karina Gonzalez, District Prevention Manager, West Yorkshire Fire and Rescue Service, was inspired by the people, workshops and the Keynote Speaker's incredible stories. She said:
"I had an amazing time and met some really inspirational people! A few people encouraged me to attend, a colleague from Control, and one in Prevention, Equality & Diversity, but the most encouragement came from my District Commander Laura Boocock. I have worked for West Yorkshire FRS for almost 16 years, always in Prevention, but have moved around roles. I have been Prevention Manager for Calderdale for almost 5 years and I love it! The workshops I took part in, Authentic Leaders, Be a Control Operator and Let's Talk About Race were all very engaging and inspirational. The inclusivity I felt from the moment I arrived. I was transfixed listening to the Antarctic Fire Angels… and in awe of them!"

District Prevention Manager, Karina Gonzalez
Role models 'have-a-go'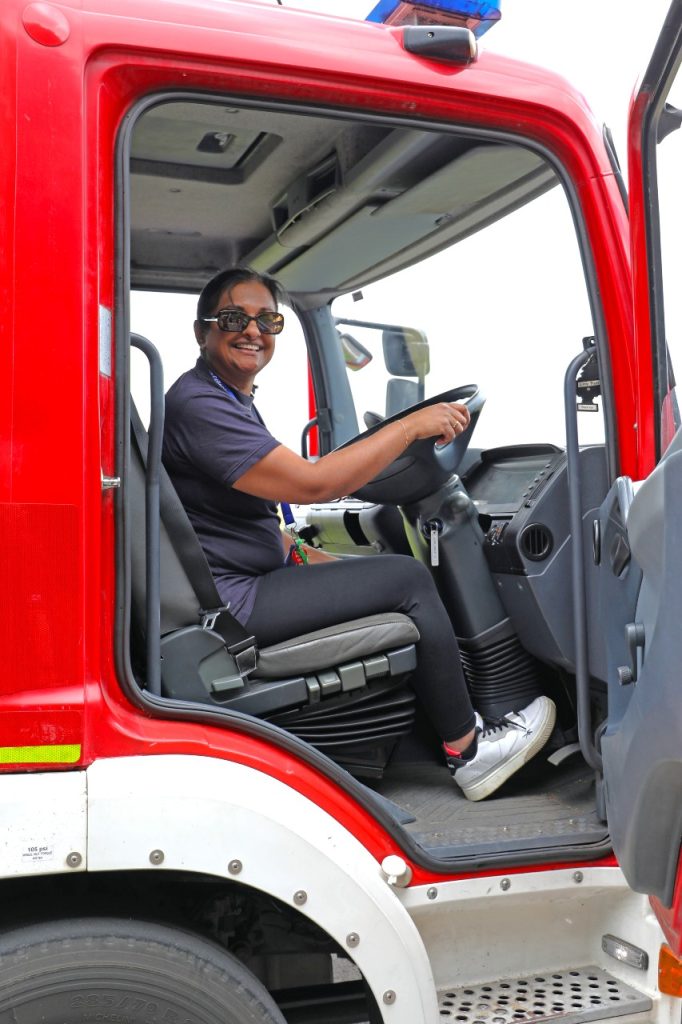 Saturday's and Sunday's workshops were a great opportunity for delegates to have-a-go at practical activities on the incident ground and in a classroom environment. MSA Bristol were the main sponsor of the training and development event. And SFJ Awards kindly supported through accreditation (Certificates of Attendance for seven workshops).

Some of the practical workshops that took place on Saturday and Sunday were Urban Search and Rescue (USAR); Wildfire Appreciation; Abseiling; XVR Mobile Unit; Be a Fire Control Operator; Be a Firefighter; Fire Behaviour; Incident Command; Multi Incident Scenario; Road Traffic Collision; and Trauma Training (Rescue, Trauma and Casualty Care).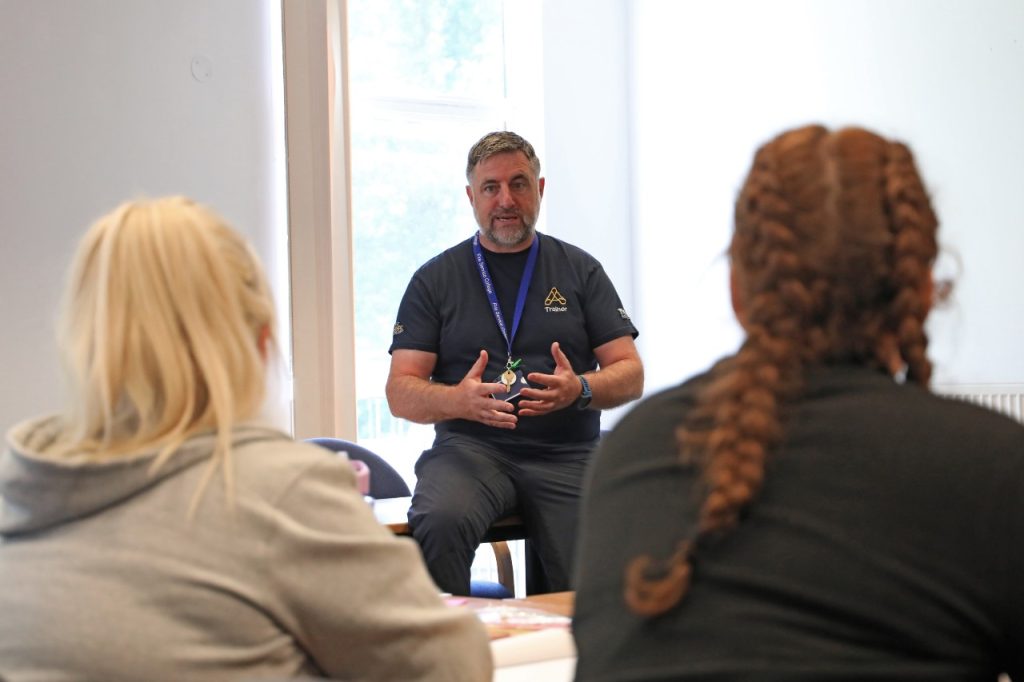 Classroom based workshops included Fire Investigation; Hazmat; Fire Engineering Science; Introduction to Fire Safety; Preparing Yourself for Promotion; Authentic Leaders; Be a Role Model, Mental Health, Let's Talk About Race and Menopause.
Building confidence for the future

Izzy Ryan, is a Firefighter at London Fire Brigade, and was a first-time Trainer on the 'Be a Firefighter' workshop. The workshop, open to all, gave people an opportunity to 'have-a-go' at many aspects of the role of a firefighter.
"Before I became a firefighter I had previously been a delegate involved in the 'Be a Firefighter' workshop. This experience gave me a clear insight into the role and intrigued me. Since then I have been a delegate every year since. Fast forward 7 years, I was asked to go back as a trainer to deliver that same workshop. It was the most inspiring experience, enabling me to share my experience and knowledge with others. I'm thankful I have been given the opportunity to give back the energy I had initially been given from this workshop. And share a personable experience with our potential firefighters and keep them inspired! I honestly believe I would not be here where I am today if it was not for WFS."

Firefighter, Izzy Ryan
Being part of something bigger
Over the course of the event there were a number of physical and well-being activities, for people to focus on themselves and their fitness and mental health. Bootcamp, circuits, spinning, well-being therapies, and meeting the Wellbeing Dogs, Peggy and Koli, all proved popular.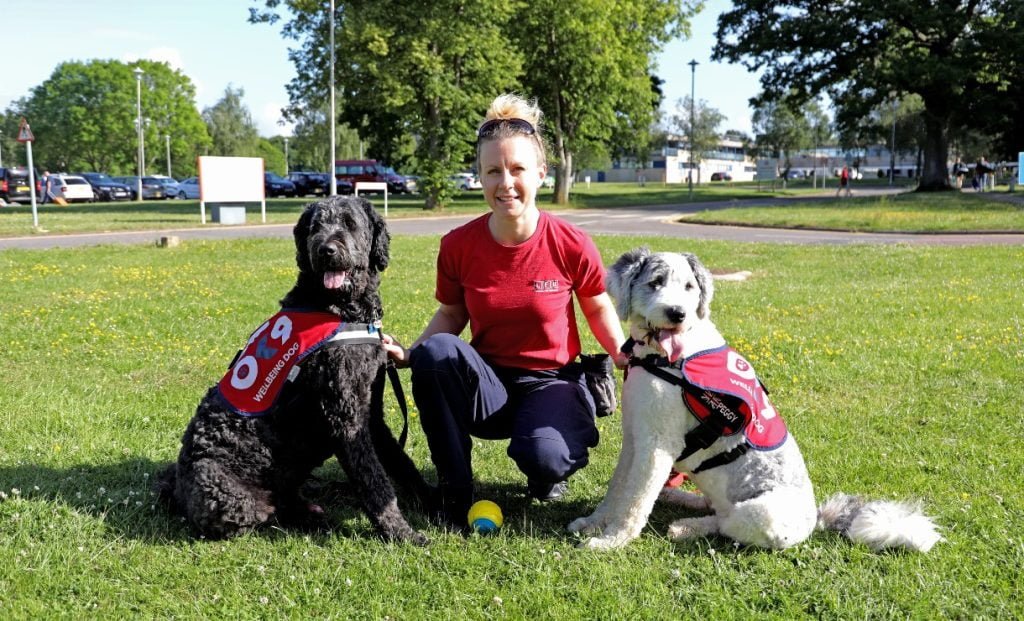 On Sunday morning, the WFS Annual General Meeting (AGM) took place and new committee members were elected: Kathryn Billing, Liaison and Partnerships; Miriam Heppell, Company Secretary; Daisy Byron, East Regional Rep; Vicky Wallens-Hancock, Executive Member; and Alex Johnson, Patron.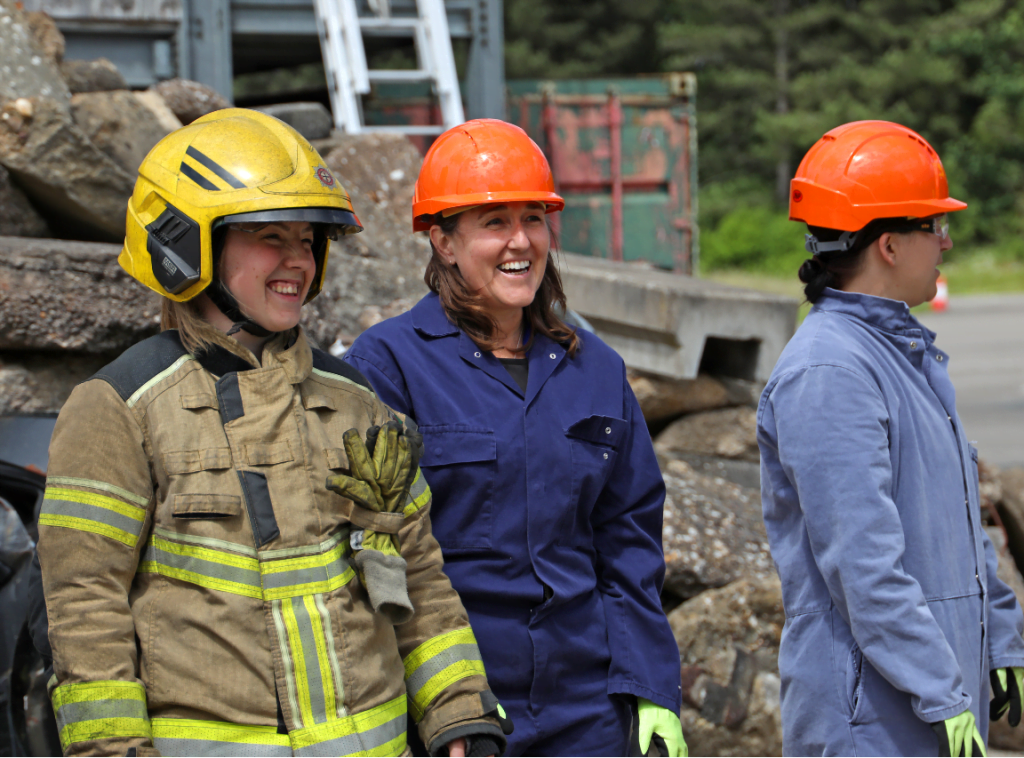 Think, learn and be inspired

"It was such a positive and uplifting experience. It was a great chance to find out more about myself and what I'm capable of."
" Took me out of my comfort zone and was a challenge. I felt included and felt I impacted others in a positive way also."

"I met so many fantastic people and genuinely had the best time. It was so great to feel a part of something bigger."
"The experience provided an opportunity to network with different colleagues and be encouraged to think, learn and be inspired. Something that is rare in my current role."
"The workshops and my experience of the college went beyond any training I've had so far and it was an absolute energy and positivity injection for my career."
"The event gave me confidence to push myself to be the person I want to be in the Fire Service, to believe in myself and believe that I can make a difference."

"Before this event I was questioning if I wanted to carry on in the Fire Service. Having met some amazing women I have been inspired to push myself. 'See it Be it' is my new mantra!"
"Listening to the Chief's Questions made me realise that I can achieve a lot with hard work – nothing is unachievable."
"I am in the early stages of my career as a firefighter. It was the ideal learning environment. I have only done 1 tour back on station and already feel more confident."
We would like to thank everyone who attended, our speakers for their invaluable contributions, event and award sponsors, and our exhibitors for supporting the event. Special thanks to our team of WFS Event Volunteers, and event photographer/ videographer.

Keep up to date with the latest WFS event news by signing up to our newsletter.