In the midst of the Covid-19 pandemic, Kara Bennett stepped into her new role as South Wales Fire and Rescue Service's Sustainability Officer. With crews on the front line responding to weather extremes, Services are working together to reduce their carbon footprint and setting out climate change plans.
South Wales Fire and Rescue Service (SWFRS) have pledged to reduce their environmental impact and carbon footprint by 25% in just three years. Helping sustain the planet for future generations includes implementing additional electric vehicle charging infrastructure; reducing front line appliance age to 12 years; implementing green energy solutions; and embedding sustainability into the design process. By 2050, South Wales Fire & Rescue Service aims to achieve an additional 55% reduction.
We caught up with Kara to find out more about life as a Sustainability Officer – from composting, eco gardens, and rainwater harvesting, to being inspired by other Services and the volunteers who are dreaming big for the future.
Kara is also involved with Catalyse Change, a Bristol-based social enterprise who support girls and young women to develop sustainability skills and knowledge, inspiring the next generation of change-agents.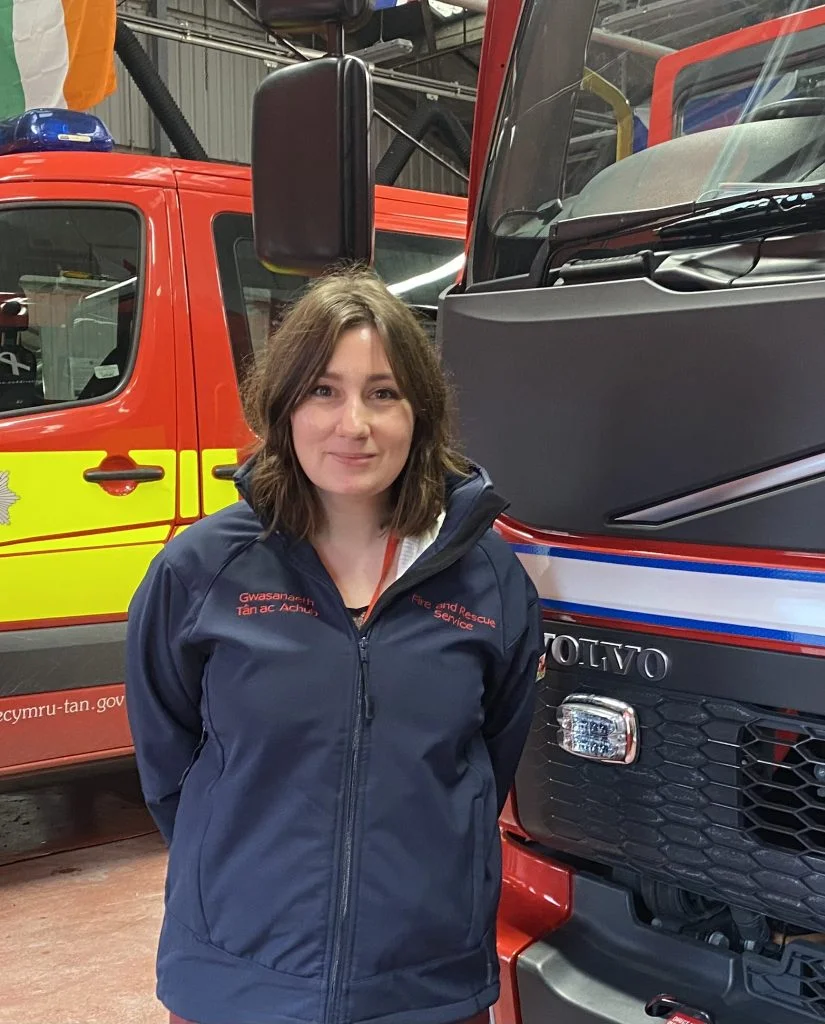 You completed a Bachelor of Science in Forensic Science. How did that lead to your career in the environmental sector?
Shortly after graduating I was lucky enough to be offered a position as a lab technician with a consultancy to analyse natural gas composition and effluent water samples. During my time analysing samples I became friendly with the site's environmental assistant and would occasionally have the opportunity to accompany her during site assessments. I soon found the lab work to be repetitive and looked forward to my next chance to get out and about with the environmental team. It was at that point I realised I wanted to pursue a career in environmental management.

I took a position as a graduate engineer with a large consultants. As luck would have it, that company later won the contract to provide the environmental assistants position (at the site I'd previously worked at). And through word of mouth and knowing the right people, I was approached to fill the position. Within two years of moving on, I was back doing the job I had previously coveted.
You've been a lab technician, graduate engineer, to an environmental manager. What advice would you give someone looking to work in sustainability in the Fire Service?
Working in the fire service has been my first experience in the public sector and it's been an entirely different and wonderful experience. If I could offer any advice, it would be to remember that attitude is everything. Skills and knowledge can be learned. Your ability to communicate and advocate for positive change can be developed and evolve as you grow. And obstacles and setbacks can be overcome if you have a positive mind-set. It's this mentality that I love so much about the fire service.

SWFRS are incredibly action orientated, it's never a case of, 'we can't do this' but always a question of 'how can we make this happen?' As a team, everybody cheers everyone else on, it's really inspiring and contagious.
What are the main skills and competencies needed to carry out your role?
I often liken my role to a sales role. Sustainability is dependent on buy-in and commitment to change. A hugely important aspect of my role is to communicate and engage with our team, to 'sell' the benefits of making sustainable choices and to recognise and celebrate the wins, so our team knows their efforts make a difference. The ability to think about the bigger picture is also useful. To understand and assess the wider impacts of the decisions we make to advocate for change that will make a wide reaching, positive impact, both for our organisation and the communities we serve.
Studies show women are more likely than men to be affected by climate change, but historically women are also agents and promoters of adaptation and mitigation. How has volunteering with Catalyse Change benefitted your current role?
I've learned a huge amount through my affiliation with Catalyse Change. As a mentor for young women, it has challenged me to broaden my perspective and question my own mind-set. There seems to be much more demand now for sustainability professionals and the requirements for these roles are constantly evolving. It's incredibly encouraging to see these disciplines more widely recognised. And that organisations are looking to recruit dedicated people to these roles. To build relationships with individuals who are facing some of the same challenges and to gain experience and feedback from one another is incredibly valuable.
You're an advocate for sustainable travel. How do you promote this in your Service?
Travel is a significant contributor to many organisations' carbon footprint. Active and sustainable travel offers a great substitute for some of the necessary travel, not only in our places of work but in our personal lives too. Not only is it more sustainable but you get outside and hopefully access a little more nature and green space. And it's great for your mental wellbeing too. We are proud signatories of the Cardiff and Gwent healthy travel charters, and aim to promote active and sustainable travel throughout our organisation.

Of course, as an emergency service, a proportion of our travel is absolutely necessary and where this is the case SWFRS are moving more and more towards the use of electric vehicles. We currently have 20 charging points at headquarters and 6 stations with electric charging points installed and plans to roll out more. We also have a growing fleet of pool vehicles available for staff when travelling from site to site. In addition we're working on a number of initiatives and collaborations to encourage greater activity throughout the working day such as lunchtime walks or walking meetings.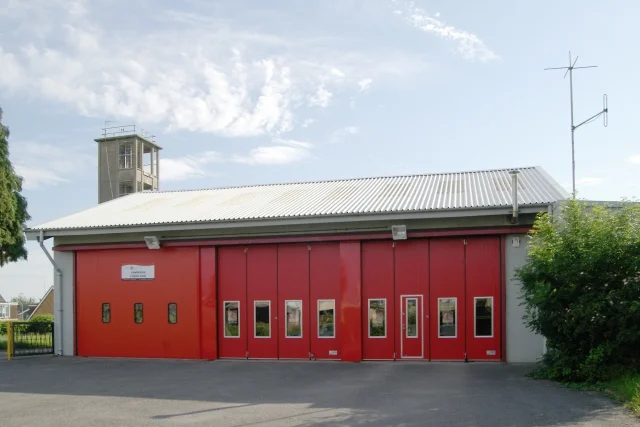 What's your proudest moment since you've been in post?
Without a doubt my proudest moments are the seemingly small and insignificant moments where you notice that someone's perspective or mind-set is beginning to change. For example, when you see operational firefighters get truly excited about sustainably, really taking ownership, proposing opportunities and sustainable solutions and driving them forward. Some examples are our crews at Ely Station who used items that would otherwise have gone to waste to build a wellbeing space. Maesteg Station worked with local schools to design and build an eco-garden, which they now use as an interactive educational space for communities and local schools. Our Cowbridge, Ogmore Vale and Maesteg stations have set up worm composting and are really engaged in the composting activities. There are so many more examples I could share but it's often the small changes that ultimately, will drive sustainability forward. Those are the moments I'm proudest of.
What's the most exciting thing you're working on right now?
It's difficult to choose just one project, we have a lot of exciting work going on! We're in the early stages of working with our sister services in North Wales and Mid and West Wales on an exciting collaborative project. We hope to drive multi-agency environmental action days —from working on a sustainable community project, to joined-up training and awareness days. We're still working out the finer details with a view to starting in spring. Our ability to work together as one public service across Wales is an incredible asset. Sustainability across an organisation is only achieved as a team effort, a truly sustainable public service can only be achieved if we all work together. It's these collaborative projects that I find most exciting and valuable.
Who or what inspired or motivated you to work for the Fire Service?
Until very recently I used to live directly opposite one of our retained fire stations. I would watch with utter respect and admiration for our firefighters as they would come running to the station (often in their pyjamas), knowing they would need to think on their feet and adapt at a moment's notice.
I had realised the time was right to move on from my previous role so had handed in my notice without my next role lined up. As my end date was approaching I still had to find the next right opportunity. I started to look into sustainability roles as opposed environmental management roles and this role with SWFRS was the first result that popped up. I was immediately taken with the job description, the carbon reduction plan and ambitions (that I had researched) and the general ethos and work that had already been done within the service. In fact I wanted the role so badly that I was a bit of a nervous wreck during my interview!
I was over the moon to be offered the role and once I'd met the team and begun to familiarise myself with the service, my admiration and respect for the work of the service has grown. Pretty early on I had a call with one of our group managers (who is a senior operational firefighter) and he asked if I had considered, since I live right opposite a fire station, becoming a retained firefighter. I explained that whilst I loved the idea, I wasn't confident I had the mental and emotional strength to deal with some of the situations firefighters experience. His response will stay with me for life. He said, "That's why your crew are in effect an extension of your family. We all have strengths and weaknesses and as a team you will all balance each other out. Some will take the lead on certain types of incident and others on a different type".

That sums up my experience with the service so far. We are a team, a fire family. We all have each other's backs and we can achieve more than we could ever imagine if we draw on everyone's strengths.
Tell us more about how you work with South Wales Fire & Rescue Service Volunteers?
Our volunteers are a highly valued and essential extension of our service. We are so lucky to have such a varied range of highly motivated people with so much combined lived experience we can depend on and draw upon. Sustainability is a huge aspect of the work we do and a core value of our service, that it goes without saying we hope our volunteers will support us in this.

In addition, our volunteers are active members of their communities, the communities we serve, so are vital to advocating for greater sustainability. They also act as role models within our communities to influence the types of positive sustainable change we hope to see. With this in mind it has been an absolute pleasure to have had the opportunity to engage with our volunteers, share our sustainable values and learn from them about how they feel we can best achieve these.
COP26 has given the climate crisis a bigger platform and more services are putting the environment at the top of the agenda. What do you think are the biggest challenges?
In my experience, and through feedback from our sister services across the UK, achieving an accurate picture of our carbon impact is challenging. The fast pace and unpredictable nature of the emergency services, not to mention that we cover multiple different unitary authorities can present its challenges, so this is a key area we are working on. Secondly, as an emergency service, a large proportion of our carbon footprint is influenced by our primary need to remain trained and prepared to respond at a moment's notice. This can have an impact on the modes of travel available to our operational crews and the provision of facilities and use of resources for training purposes. This is why engagement and teamwork is so critical to our sustainability strategy.

We don't have all the answers, and that's okay, because we do have the knowledge, the resources, the ambition and the connections to find and trial the solutions and share that information with our partners so we can achieve these ambitions together.
You've been working together with staff and Services across Wales and beyond. How does this motivate you?
In so many ways! I'm learning so much from some of the work and projects our sister services have completed. And I'm so grateful to all our partner services and organisations for being so open and willing to share lessons learned.
Likewise, being able to engage with our crews and staff across the service is absolutely essential to achieving our sustainability ambitions. Pragmatism and practicality are key. If our solutions are not workable in real life, the likelihood is they are not sustainable solutions. So we have to work together as a team with our "end users" to really find solutions that will work, solutions that our team has suggested because nobody knows the details and nuances of the role better than those doing it.
A recent global climate change survey showed the depth of eco-anxiety many young people feel. 75% of 16-25 year olds agreed 'the future is frightening'. What gets you out of bed in the morning?
A lot of tea! That and I'm really keen to change any perception about environmental issues being seen as a barrier or an obstacle to the work of an organisation. Although this perception seems to be changing, over the years I've noticed sometimes those commitments can be seen as a burden or another requirement. Good environmental and sustainable practises promote efficiencies, minimise waste and often have the potential to save substantial amounts of money. Through good practice we can enhance our places of work, the wellbeing of our staff and communities, and the quality of life for future generations. Working smarter, not harder.
If you weren't a Sustainability Officer, what other role in the Service would you be inspired to try and why?
Without a doubt, I would love to work in fire crime! I've been lucky enough to accompany one of our fire crime officers for the day and I absolutely loved it. They do such important work, from working with partner organisations and reducing waste crime to safeguarding our communities. What I love most about the fire service is that no matter what role you perform, everyone is working towards the same meaningful goals. No matter what you do on any given day, you can end your day feeling like what you accomplished mattered. I'm not sure what could be more rewarding than that!

Thanks to Kara for sharing her tips, advice and insights!

Interested in a career in the Fire Service? Visit our Jobs Board for the latest opportunities.