In June 2021, Joolz Earley, then aged 17, attended the first WFS Future Firefighter Positive Action Programme. Determined to succeed in her dream to become a firefighter, we were delighted to speak with Joolz to find out more—about her journey into the Fire Cadets, who and what inspired her along the way, and what the future holds.  
Our Future Firefighter Positive Action Programme was aimed at people from underrepresented groups aspiring to be future firefighters. The free 6-week programme was designed to help provide a better understanding of the role of a firefighter, how to prepare for selection tests and to help boost confidence to apply for the role.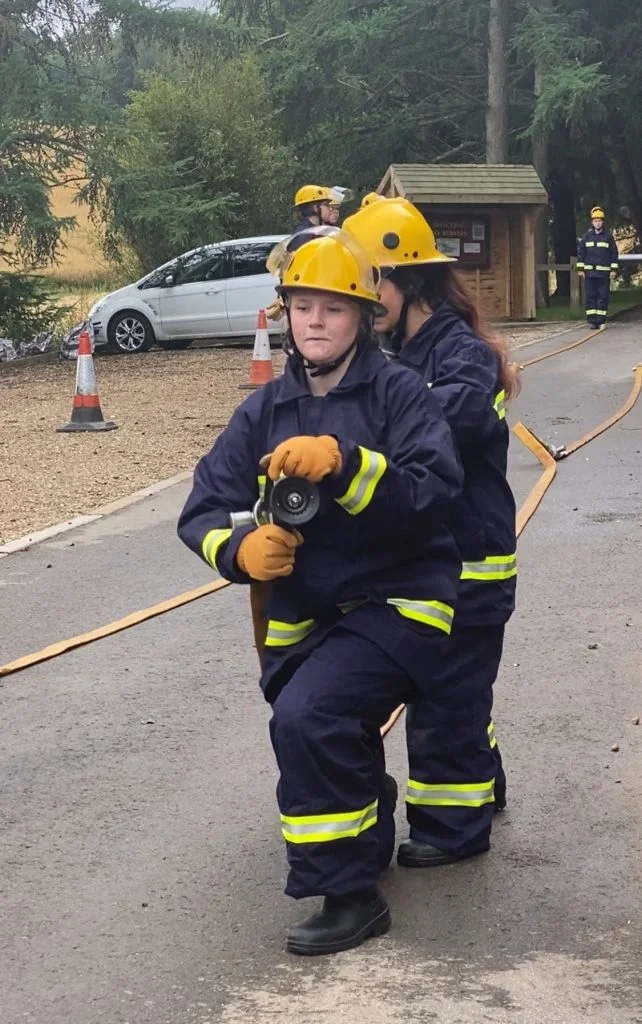 Joolz joined Crowborough Fire Cadets in February 2020. Passionate about team sports, she has been involved with a leading competitive cheerleading programme in Sussex. Just before attending our Future Firefighter Programme, Joolz had travelled to Dallas, Texas with the Zodiac Allstars squad, to take part in a prestigious event. She is currently studying Level 3 Protective Uniform Services at East Sussex College. 
We caught up with Joolz to talk us through her achievements and ambitions for the future.

"When I joined the Fire Cadets I was a cheerleader at Zodiac Allstars and had just come back from Dallas after competing in one of the biggest competitions in the world. I am proud to say that we won the International division which meant I was not only a 2 x back to back Summit World Champion but also a National Cheerleaders Association Champion."
"My time as a cheerleader taught me a lot about working as a team, not only respecting fellow teammates but striving to achieve the same goals. This is how I believe the Fire Service works. Since I joined the Fire Cadets I have gained so much knowledge and experience which will guide me on my journey to become a Wholetime Firefighter."
"The person who has inspired me the most is Julie "Jules" King. The first time I heard about Jules King was when we had our first Fire Cadets meeting online. Luckily, I got the opportunity to ask Jules some questions and Jules asked me some questions too. I was so inspired by what Jules had achieved within the Fire Service, her determination to succeed in a male-orientated environment—it made me realise that I could also achieve the same."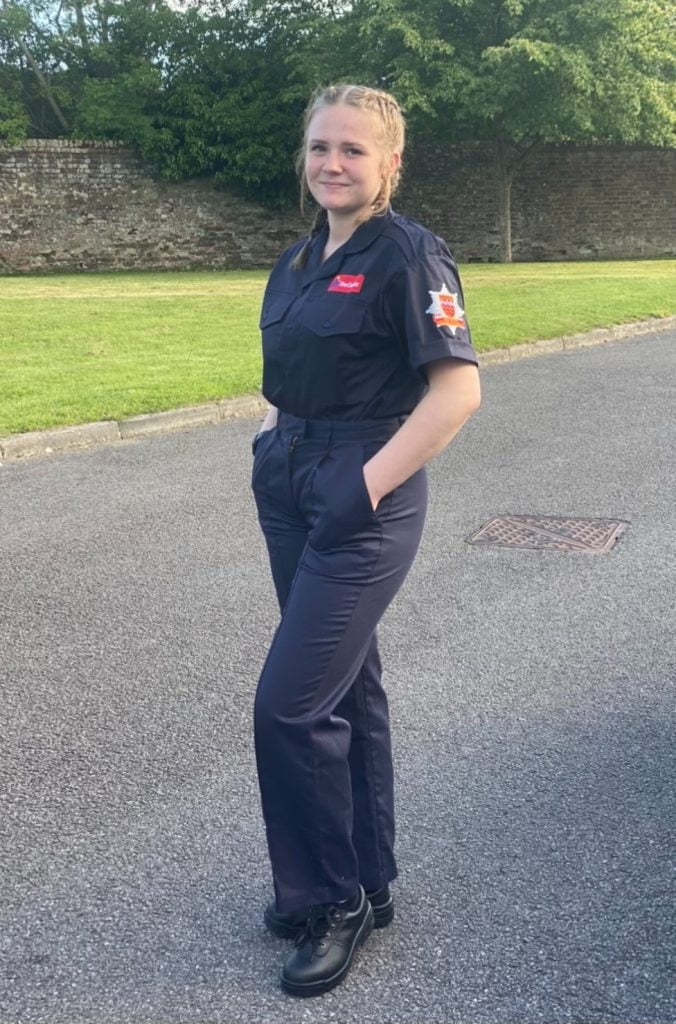 "I left school in November 2019 after being told on several occasions that I was a failure and I would not succeed. Being dyslexic does not define who I am. I define who I am, and anyone can achieve their dream with the right mindset."

"Currently, I'm at college studying Level 3 Protective Uniform Services and achieving distinction and making my mark on the course. I am really enjoying it. It certainly pushes my learning skills and I would recommend to anyone that wants to go into the Uniform Services to take this course."
"In the summer of 2021, I enrolled to take the six-week online course with Women In The Fire Service. This course was designed for anyone with aspirations to become a Firefighter. The women leading the course were fantastic! They did not only start right at the beginning explaining how to apply for the Fire Service but talked about fitness, job roles within the Service and the fire and rescue service as an employer."
"In July 2021 I applied for a Wholetime Firefighters position with East Sussex Fire & Rescue Service. Unfortunately, I was not successful that time but that won't stop me. I recently applied for an On-call Firefighter position and I will keep you updated with how my application proceeds!"
"2021 was an amazing year for me. Not only was I asked to walk with the Fire Cadets at the Cenotaph Parade in London, I was also nominated in the Fire and Emergency Awards. I attended the awards in London with many inspirational people."
"No matter how long it takes me I will achieve my dream of being a Wholetime Firefighter."

Thanks for sharing your story with us Joolz!

Find out more about our Future Firefighter Programme and join our waitlist here.