In March, The National Fire Chiefs Council praised the dedication of UK Fire and Rescue Service staff carrying out Covid-19 related work. This included supporting the nationwide vaccination programme and the roll-out of asymptomatic testing. Sarah Holden and Jo Dawson are WFS reps for their respective Services. They have both assisted with the Public Health Covid Response.
We shine a light on just two of our WFS reps who have played a part in the fight against Covid. Sarah, Crew Manager at Lancashire Fire and Rescue Service, has been helping local NHS services deliver and administer vaccinations as a Team Leader. Jo, Crew Manager at Nottinghamshire Fire & Rescue Service, has been working in a small team as a Training & Project Manager at Asymptomatic Testing Centres.
WFS reps, Sarah and Jo, share their insights into life on the frontlines of the Covid response.
Sarah Holden, Lancashire Fire and Rescue Service
Lancashire Fire and Rescue put out an ask for volunteers to support the vaccination process in the winter of 2020. I was probably one of the first to put my hand up. On station, we weren't as busy as we were pre-covid due to people being at home, less travelling and the pubs being closed. Our training and drills had become slightly limited as our usual venues were closed. I felt I needed to do something to support the pandemic. So when the request came out, I immediately said yes.
Initially, the request was for vaccination logistics and vaccinators. I said yes to both, but never really believed we would be vaccinating. I'd previously spent the summer supporting face fitting and antibody testing within the service. So I knew we had a good partnership with the NHS but had no idea how much that would develop over the coming months.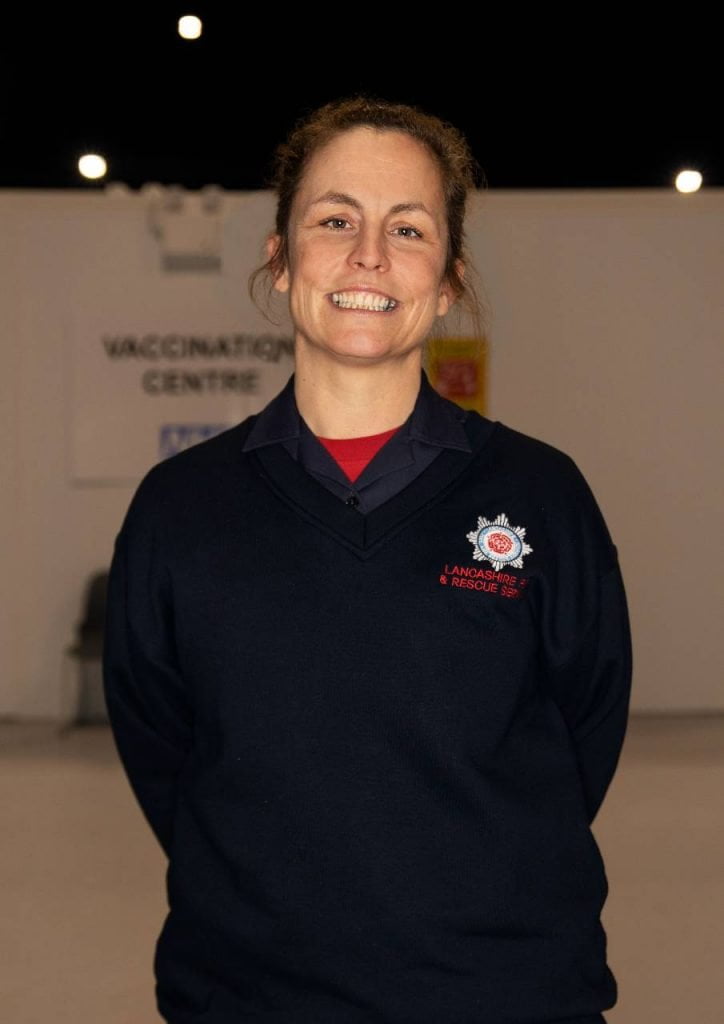 Those that volunteered were offered vaccinator training before we started. Training was similar to our in house LearnPro modules but on subjects such as Pfizer, Astra Zeneca and anaphylaxis shock. Soon after starting the logistics side of the role, we were told we would be about to vaccinate. After a significant amount of practical training, and assessing our competencies, we started to vaccinate.
The feeling was amazing. This is what we signed up to do. We were making part of history. Firefighters vaccinating alongside the NHS, Navy, Army and RAF. It was life-changing.
I spent the next three months away from the station seconded to a mass vaccination centre. My position of Team Leader included managing patient flow and the logistics of the mass vaccination site.
It was the most rewarding role to date which I am so proud to be part of.
Jo Dawson, Nottinghamshire Fire & Rescue Service
I began my basic training as a firefighter at Nottinghamshire Fire and Rescue Service (NFRS) on 5th November 2007. Having spent nearly 13 years on a station, I decided it was time for a change. I took secondment into our Organisational Development & Inclusion Team in September 2020, where I discovered Women in the Fire Service! I was delighted to become WFS rep for NFRS and I started addressing issues of ill-fitting uniform, lack of facilities, and a misunderstanding of positive action.
However, this came to an abrupt halt in January 2021 when a request came from our Chief to assist with Covid-19. Chosen to go on secondment, there was plenty of confusion around my role. This is the type of conversation I often found myself having:
Someone: "How's everything going at the vaccination centre?"
Me: "Oh, I'm not at the vaccination centre, I'm in the mass Covid testing team."
Someone (with a confused face): "So you aren't jabbing people in the arm then?"
Me: "No. I'm building asymptomatic testing sites, training staff and supporting those sites."
Someone (with glazed over eyes): "Riiiight, erm, good luck"
So what exactly am I doing? Well, if you want statistics, I lead a team of six people, which our CFO called 'The Mighty Six'. We turn leisure centres, pubs, libraries and trailers into top-notch testing facilities (we've built twenty so far). We train staff (over 200), who have zero clinical expertise, to be testing operatives who have processed over 70,000 tests. This doesn't tell the full story though.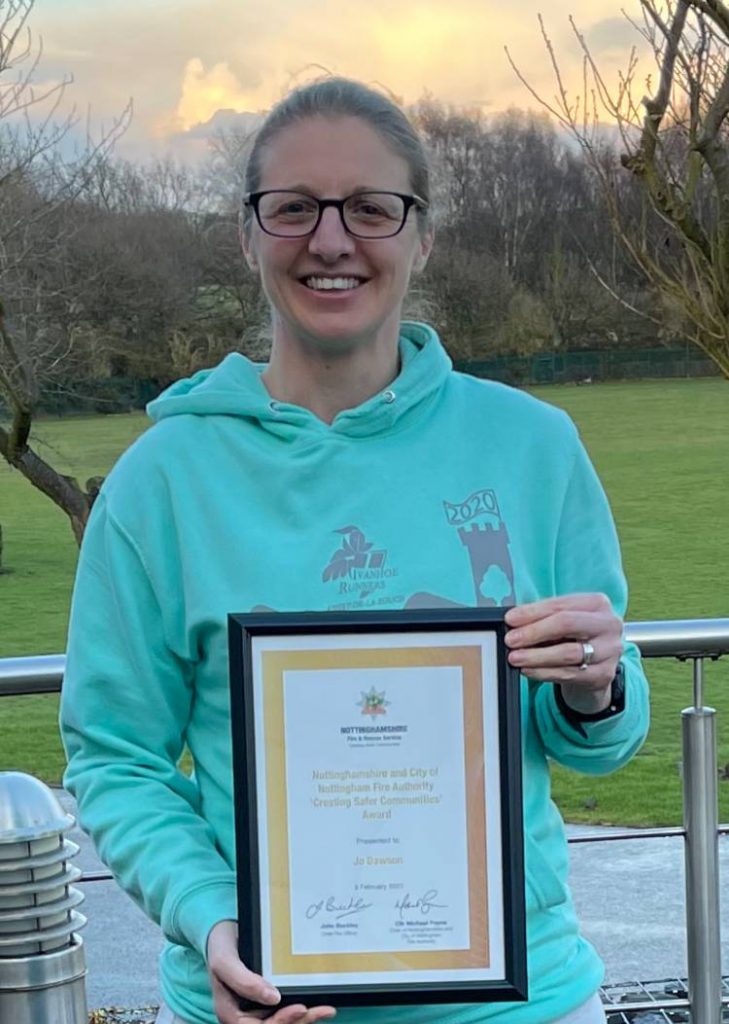 Most of the sites have been problematic: setting up on an irregularly shaped dance floor; key equipment not turning up; technology failing; locations being too cold to carry out tests. However, we have always overcome these and been ready for our 'go live' time. It's a bit like playing rugby with teammates who have never played before. And they don't have studs, so they slip around on the mud and the goalposts keep moving!
Despite the consistent curveballs, our teeny tiny team have coped admirably and continued to deliver. And we've adapted, so we now have a fire crew help us with every build. We are also supported by a team of volunteers from the NFRS retired members association who love to get involved and enjoy rewarding days out. It feels a bit like a Bob the Builder episode:
Can you train 20 staff in a building with no training area and remain socially distanced? Yes, we can!
Can you do two builds a week? Yes, we can!
Can you Quality Assure all our staff in 5 different roles across all our sites? Yes, we can!
Can you drop everything and deliver a completely different project involving hundreds of staff tomorrow? Yes, we can!
My team's been made up of wholetime, on-call and support staff. We've worked with partners from local, city and county councils, DHSC, Public Health, NHS, along with the agency staff we've trained which has been a massive learning curve.
I find it hard to put into words how to describe what this experience has been like. Early on it was "brilliantly bonkers". My son calls me a "coronavirus superhero" and I have genuinely felt privileged to be part of the fight against Covid-19. There's been so many highlights: the day our first site went live; the Programme Director saying we had embedded a values-driven culture within the workforce we have trained and consequently, customer satisfaction is high; being part of a command team for 'Operation Eagle' which culminated in 2,424 people being tested for a variant in ten days.
As my secondment draws to a close, I allow myself time to reflect. I am bursting with pride at the legacy of the customer-focused testing I leave behind. And I'm also amazed by how I've developed as a leader and gained confidence, thanks to being one of 'The Mighty Six'.
Thanks to WFS reps Sarah and Jo for sharing their touching stories.
Learn more about how Fire and Rescue Services across the country have assisted in the COVID response in this article from the National Fire Chiefs Council.