In January, Women in the Fire Service ran the first 'WFS Futures' online event, 'Introduction to the Fire and Rescue Service'. Nearly forty members of the public joined the session to seek advice and tips on future fire sector careers. The event was a positive action event, specifically aimed at groups of people currently under-represented in the Service.
Leading the session were WFS volunteers Station Commander, Sara Hall, Station Commander, Michelle Hicks and Training Centre Watch Commander, Beckie Watts from Hereford & Worcester Fire and Rescue Service.

A variety of topics were covered including the values of the modern fire service, recruitment and career progression, fire control, support roles and specialist response staff, Urban Search and Rescue (USAR), fire investigation, hazardous materials and animal rescues.
A varied and rewarding role
Training Centre Watch Commander, Beckie Watts, said:

"We had lots of relevant questions about the role, especially around being a woman in the Fire Service and on fitness and strength. It was good to be able to give my perspective. I joined the Fire and Rescue Service in 2002 as a Control Room Operator. It was after my second child that I decided I wanted to experience and challenge myself as a Firefighter. I joined the operational side in 2009 and have never looked back.

I've worked at a number of Stations and in various departments which has helped me to see a more rounded view of the Fire Service. As a Watch Commander, I get to see new recruits enter Training School fresh faced with limited knowledge of the service and leave with aspirations of being the best version of a firefighter they can be.

Being part of the Fire Service is both a varied and rewarding role. I have been fortunate enough to work with some amazing people who have all supported and encouraged me. I would encourage anyone who shows an interest in joining — it is an incredible job and the opportunities are there for everyone to excel."
A supportive community
Event participants aged between 16-44, said:

"Really good and informative! Gave me lots of different topics to look into and gave me an idea of priorities and where to start with preparation."
"Just wanted to say thank you for hosting the event. It really put into perspective how much I really want to go for a future career in the fire service."
"Good informative event, able to ask questions and they were answered brilliantly."

"Opportunity to meet other women considering future careers in the Fire and Rescue Service. It turned out to be a supportive community. It was also nice to hear real life experiences."
"Was a great insight for me about the other jobs other than just a 'firefighter', will definitely be attending the next one about interviews and applications."
Removing barriers to careers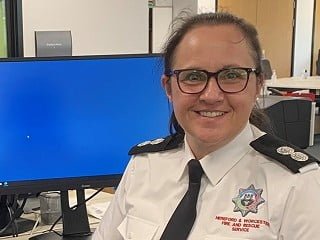 Station Commander, Michelle Hicks, said:

"It was fantastic to have over 40 people attend the first session of our WFS Futures series designed for women who are interested in a career in the fire service. Covering areas such as prevention, protection, response, specialisms — as well as why people are so important — gave attendees a real insight into the diverse range of skills required of a modern day firefighter.

I really enjoyed being able to impart my knowledge and experience of working in the sector to support and influence operational and support staff of the future. The relaxed delivery of information gave attendees the opportunity to ask questions in a safe and inclusive environment. We were asked questions about what it's like to work in a predominantly male environment and hopefully remove some of the barriers women currently face when considering a fire service career.

I'm really impressed with the positive feedback we've since received which shows just how beneficial the session was."
The next positive action WFS Future's event takes place on Wednesday 15th March, 7pm and is aimed at the public and current Service staff. The future careers event will be delivered by experienced UK FRS staff from a variety of roles.

Booking for Applications and Interviews opens 1st March at 09:00 am.

Find out more about WFS Futures and upcoming events.