Women in the Fire Service UK have been proud to have close connections in Lebanon for several years. Initially, this was through delivering Fire Safety advice with Operation Florian, a humanitarian charity operating under FireAid. Since that project, our links with Lebanon have grown.
Nicky Thurston, Inclusion Officer at Kent Fire and Rescue Service, gives an overview into a recent collaboration with Operation Florian and the Livelihoods in Forestry (LiF) which is a USAID-funded activity implemented by the Lebanon Reforestation Initiative (LRI).

This collaboration took shape as a series of online events aimed at empowering women working in fire prevention and management.
Empowering women to challenge stereotypes
"We have had relations with Lebanon in terms of Fire Safety for some years through Operation Florian. Steve Jordan (Greater Manchester FRS) led the Operation Florian project working with Save the Children delivering Fire Safety advice to Syrian refugee communities in the NGO informal tented settlements and sub-standard buildings in and around Beirut.
Through that project, we recognised women had a vital role to play in community safety. And we established links with the Lebanese Civil Defence (LCD). In Lebanon, the fire service is part of the army, there are a few paid firefighters, but most are volunteers. Volunteers are predominantly men, but increasingly, women are interested too. We are seeing traditional gender stereotypes challenged like they are in the UK.
In 2019, Rose and Sabine, volunteer firefighters from Lebanon, joined us at the WFS training and development event. They found the experience incredible and have since done amazing things in Lebanon. Currently, there are no female leaders in terms of rank/role within the fire service, and women primarily offer casualty care, scene stabilisation etc. So it is vitally important that we are visually able to show just what women can do in the sector."
Building opportunities online
"In 2018/19 Lebanon experienced pretty horrendous forest fires. The potential for women to support the community by way of fire intervention was seen as a huge opportunity. The Lebanese Reforestation Alliance contacted Women in the Fire Service UK to ask if we could help engage women in firefighting. Happy to assist, we had hoped to travel to Lebanon to run a conference with volunteers to engage other potential volunteers when Covid-19 hit. Some of us only made it to the airline departure lounge when Lebanon was officially shut!
Undeterred and determined to build on our relationship for International Women's Day, we hosted an online event where WFS representatives talked about their experiences. It was so well received, we were approached to deliver a programme of four online workshops, each for over 50 participants through May and June 2021."
Powerful stories of achievements
"The four workshops were hosted by Mireille Jazi, Monitoring and Evaluation Specialist & Gender Focal Point, and Joseph Bechara, from the Lebanon Reforestation Initiative. The events were introduced by Caroline Anderson, WFS Vice-Chair. Workshop topics included tackling wildfires and wildfire management; Road Traffic Collision (RTC); trauma and casualty focused care in RTC; leadership and role models; and personal development and role setting."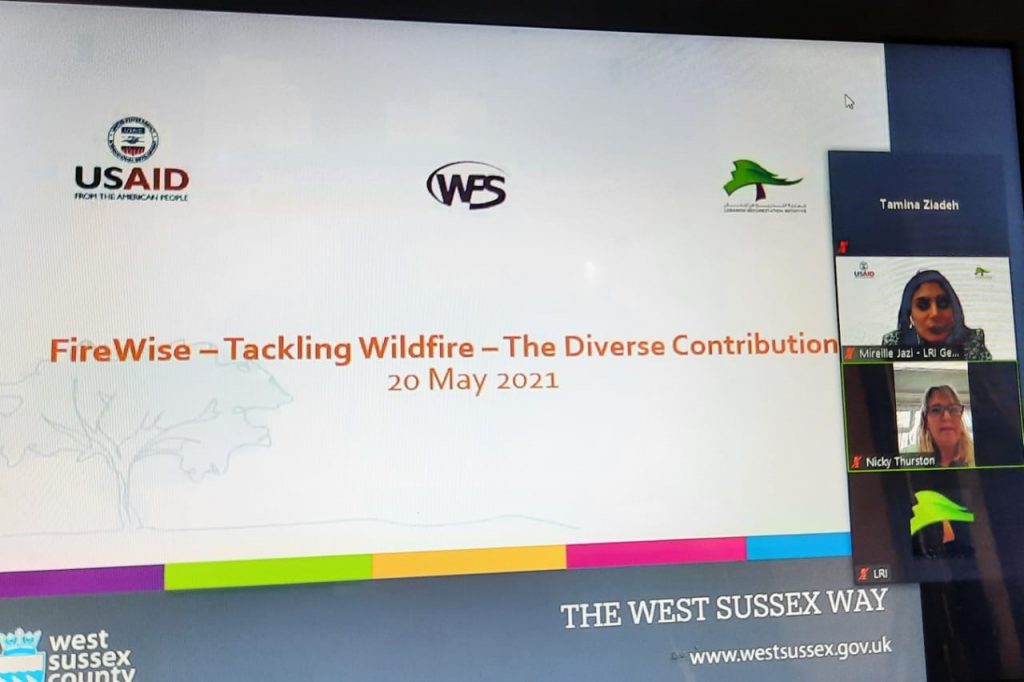 "Rose and Sabine were welcomed back and they talked about their achievements in Lebanon. They were supported by Station Manager Kate Sands (East Sussex FRS), Station Manager Liana Selecka-Jones (Cumbria FRS) and Crew Manager Sarah Simpson (Scottish FRS) who gave hugely powerful personal accounts of their firefighting careers.
The event was well attended by Lebanese women in a variety of roles and very positively received. It has been hugely inspiring as so many strong and confident women in Lebanon are now starting to drive change in their country."
With thanks to WFS event speakers and allies: Caroline Anderson, Crew Manager Devon FRS; Matt Gamben, Wildfire UK National Lead, West Sussex FRS; Linda Kettley, Firewise UK; Sarah Simpson, Crew Manager, Scottish FRS; Kate Sands, Station Manager, East Sussex FRS; Liana Selecka-Jones, Station Manager, Cumbria FRS.