United Kingdom Firefighters Sailing Challenge (UKFSC) 2018 has officially launched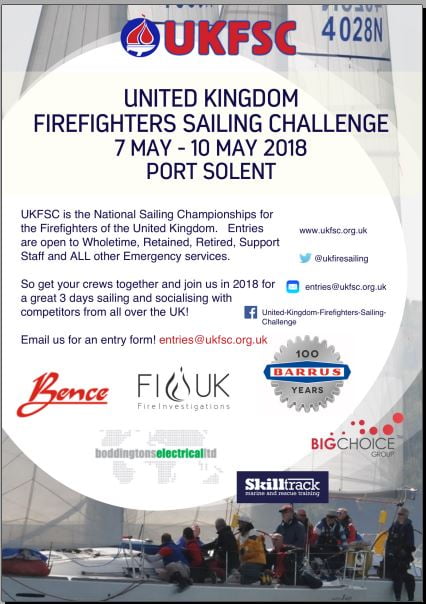 The UKFSC Committee has set the date, reserved the boats and booked the venues for next year's event.  Whilst it may be hard to exceed 2017's successes, there is every intention of growing the event even more and making 2018 the biggest and best year ever.  This year all 30 of Sunsail's F40 yachts were chartered for the event and the committee is expecting a similar number of entries for 2018 and recommend booking early to avoid disappointment.
New sponsors will be supporting the event, alongside current and long-standing sponsors, there will be great entertainment, food and drink and of course, plenty of yacht racing.  Key event details are:
Dates
7th May 2018 to 10th May 2018
The boats may be collected on the Sunday for a practice day on the Monday if booked in advance.  More and more crews are taking advantage of this opportunity as the racing becomes more competitive each year.
Venue
Sunsail Port Solent, Hampshire
Racing will take place in the waters of the Solent off the Isle of Wight on the UKs south coast and will include overnight marina berthing in West Cowes.
Boats
All boats are identical 40' Sunsail sailing yachts which are modern, well equipped, fast and fun.  There is an option to sail with or without a spinnaker depending on crew experience.  Separate trophies are up for grabs in both categories.
Crew
Each yacht can carry a crew of up to 10 persons, but the boats can be sailed effectively with 7 or 8.  This provides opportunities for those with less experience to get involved and gain experience alongside more seasoned sailors.
Cost
The cost per person is very good value and will vary slightly depending on crew numbers on each boat and whether the training day option is taken up.  As an indication, a boat with a crew of 9 and taking the training day option the cost per person would be £249, broken down as follows:
Boat charter = £1190
Team entry = £800
Training day = £250
Further information
Entry forms are available by email: info@ukfsc.org.uk
Website: http://www.ukfsc.org.uk
Twitter: @ukfiresailing
Facebook: United Kingdom Firefighters Sailing Challenge
Blog: www.ukfsc.moonfruit.com