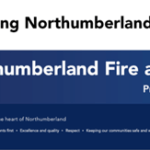 Northumberland Fire and Rescue Service
Area Manager B – Northumberland Fire and Rescue Service
Northumberland is the northernmost county of England, bordering Cumbria, County Durham, Tyne and Wear and the Scottish Borders with an outstanding North Sea coastline of 103 km and a county of rural natural beauty. The county is steeped in history and heritage and with a population of over 300,000 residents. The council provides a wide range of services across over 5,000 sq. km. Northumberland is one of the largest counties in England. Northumberland County Council is seeking to appoint to a key post within Northumberland Fire and Rescue Service.
The post holder will play a major role in the delivery of our ambitious plans to ensure that we really are a "council that works for everyone" and to focus on delivering an ambitious improvement programme following our recent HMICFRS inspection report.
The successful candidate will support the Chief Fire Officer and the wider Service Leadership Team of the Fire and Rescue Service. Northumberland is a unique county with an opportunity for the Fire and Rescue Service to truly be positioned as an emergency service which continually delivers "beyond emergencies".
There are significant opportunities for the post holder to develop their longer-term leadership skills both within the Fire and Rescue Service and cross the County Council structures. This role will help shape and deliver upon our aspiration of service improvement to support our growing offer to the communities of Northumberland.
The post holder will deliver rostered operational emergency response (Gold Command) cover as part of the Principal Officer Duty Rota in NFRS, and regional and national response on a 24/7 continuous availability basis.
The post holder will ensure the delivery of a wide range of Business Improvements which will support our service delivery objectives across the county. The post holder will assist in the development of internal and external collaboration opportunities to support our diverse offering into the communities of Northumberland.
The successful candidate will provide strategic leadership and direction to managers and our staff within the Fire & Rescue Service to promote and champion performance management initiatives and service improvements.
The role will also support the aspirations of our people through appraisal, mentoring, training and development programmes.
With fantastic interpersonal, strategic and innovative skills, this role will take a leading role on the service business and partnership development for Northumberland's Fire and Rescue Service, as well as taking the lead on driving a positive and innovative organisational culture through genuine staff engagement.
You will have experience at a Silver Command competence level within a multi-agency environment associated with Group/Area Manager Role Map. You will have previous experience within a Fire and Rescue Service at Group Manager or Area Manager Level.
Operational experience is also necessary as being part of the Principal Officer Duty rota you will need to have proven and relevant experience of commanding operational incidents and have attained the relevant accreditation (e.g. ICL3) to be qualified to take responsibility for strategic (Gold) command during a major incident or civil emergency.
Working closely with the Chief Fire Officer and the Senior Leadership Team both in the County Council and in the Fire and Rescue Service, the successful post holder will be able to demonstrate an ability to build effective partnerships and facilitate engagement at a strategic level to deliver an inclusive leadership style across the service involving stakeholders in building a vision of change for the future.
The salary for this role will be set at Area Manager B plus 20% along with a Continuous Duty allowance.
To support our workforce planning strategy a small talent pool will be created and held open for a period of 12 months.
The advert will be open until midnight on the 24th of July 2022. The application and supporting statement shortlisting will take place from week commencing: 25th July with the successful candidates being informed around the 8th of August. The interviews will take place at Service HQ on Wednesday the 24th August 2022.
The final selection process will include:
Group Discussion.
Staff Panel engagement session.
Final role specific interview.
For further information please see the Job Description on our company website
If you wish to apply for this exciting role, a supporting statement will be required as part of the application process. To receive this statement template please email Assistant Chief Fire Officer Jim McNeil. The completed statement must be emailed back to this officer by the closing date of this process. Email: – james.mcneil@northumberland.gov.uk
If you are interested in this exciting role, we would welcome an informal discussion with you.
For an informal discussion about the role please contact:
Mr Graeme Binning, Deputy Chief Fire Officer on 07814 075164 or
Email: – graeme.binning@northumberland.gov.uk
For guidance on completing your application and for information about our Equality and Diversity principles, please see our website
We are proud to be an equal opportunities employer. We operate a guaranteed interview scheme for disabled applicants who meet the essential criteria. If you wish to notify us of your eligibility for this scheme please email hrrecruitment@northumberland.gov.uk with your name and the job title you have applied for and one of the recruitment team will ensure this is factored in the shortlisting process and kept anonymous. If you have a disability and would prefer to apply in a different format or would like us to make reasonable adjustments to enable you to attend an interview please also let the team know.