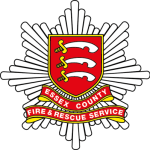 Essex County Fire & Rescue Service
Resource Management Unit Information Co-ordinator / Administrator
Permanent and a 6 month FTC
Working Hours: 37 Hours per week with some rota'd weekend work
Salary: £26,845 – £29,439
Location: SHQ, Kelvedon Park (some working remotely will be considered)
The Role
To protect and save life, property, and the environment by being responsible for the administration and quality assurance of Essex County Fire & Rescue Service's (ECFRS) Resource Management Unit (RMU) operational availability data. Your role will be to assist in the administrative day to day functions within the department which will include liaising with staff on fire stations, Control, and other stakeholders, managing databases, actioning emails, to ensure a timely response to data requests and the accuracy of information provided.
Main Duties and Responsibilities
• To operate the RMU help desk, responding to all enquiries in a timely manner
• Quality assure appliance availability data for the whole Service, ensuring that the recorded data reflects live situations at operational stations
• Maintain and update the Additional Shift workers (ASW) and Pre-Arranged Out Duty (PAOD) database
• Update and maintain information about ECFRS's operational data in a timely and accurate manner
• Working proactively to support personnel movements, including planning in advance of shift patterns, ensuring maximum appliance availability and that personnel have sufficient time to relocate
What Are We Looking For
We are looking for someone with knowledge and experience of designing and developing administrative, statistical systems and procedures relating to operational resource management. You will be able to work independently and as part of a team, with a proven track record of analysing and interpreting information to solve problems.
Your attention to detail will be supported by good written and communication skills along with strong IT skills such as Word, Excel, Outlook, PowerPoint, Database and Visio
Eligibility Criteria (internal and external applicants)
To be eligible to apply for the role, you must be able to demonstrate that you have:
• GCSEs Grade C or above or Key Skills Level 2 in English and Maths
• Internal Candidates – No current live disciplinary, performance or attendance management warnings, nor are you subject to any informal management for reasons of conduct or performance
The Application Process
This will be a three-part application process.
Application – Initially you will apply via our website with an attached supporting statement. Your supporting statement should be a maximum of 500 words showing us how you meet the essential criteria of the person specification for the role. We love it when our applications write thorough supporting statements so don't be afraid to go into detail! This will give us a great understanding of your skills and experience and how well you fit the role.
Interview – The second part of the recruitment process will be a 45-minute competency-based interview with questions centred around our Service's competency framework.
Exercise – If successfully shortlisted you will be invited to take part in a 30-minute role specific exercise which will involve creating spreadsheets, data manipulation and understanding of the data created.
Closing Date – 31 May 2023
Interview Date – w/c 5 June 2023
We are an equal opportunities, Disability Confident, employer who welcomes applications from everyone and values diversity in our workplace. A commitment to promoting diversity and developing a work environment where all staff are treated with dignity and respect is central to our recruitment process and all applications will be considered solely on merit.
As part of our offer to support all our candidates to perform to the best of their abilities during our recruitment and selection processes and we would like to let you know about a couple of support options you can access, should you wish to, including our employee forums, who are keen and willing to support all of our potential colleagues.
Our employee forums and partners include:
Asian Fire Services Association (AFSA), BEING (our LGBTQ+ employee support network), Christian Fellowship, Ethnic Minority Forum, Men's Forum, and our Women's Forum. In addition, we also have a female firefighters operational group.
Further to the above, the Service has a Digital Accessibility Inclusion Group (DAIG) that supports all colleagues to improve their digital skills and provides additional support and guidance to colleagues with neurodivergent strengths and struggles as a result of dyslexia, ADHD, Autism, dyspraxia etc. We want everyone to thrive at work, and so we encourage and enable people to access digital tools to help them perform at your best. The DAIG is a group of colleagues from across the Service that unite to support others as a result of their lived experience and desire to make a difference. They support people with a range of visible and invisible disabilities to identify and access digital workplace adjustments and solutions and may be able to assist with your application too.
Should you wish to discuss support, or access further information, from one of these groups, please contact equalitydiversity@essex-fire.gov.uk
You are also able to raise any queries or requests for support, including any adjustments you may require, at any stage of the process by email to recruitment@essex-fire.gov.uk
You can find out more about Essex County Fire & Rescue Service via www.essex-fire.gov.uk and about our vacancies, application processes and benefits via https://join.essex-fire.gov.uk
Our Culture and Benefits
Here at Essex County Fire and Rescue Service we are committed to prioritising and promoting the wellbeing of our employees. Some of our benefits include:
>Flexible working hours
>Remote working opportunities
>Wellbeing and counselling services
>Physiotherapy services
>Affiliation with the Blue Light Card scheme
>Generous annual leave
>Competitive pension scheme
>Career development opportunities
You can find out more about our benefits via www.essex-fire.gov.uk
You can contact us:
Via email at recruitment@essex-fire.gov.uk
Or call us on 01376 576121 between 08.30-17.00 Monday to Thursday and 08.30-16.30 on Friday.