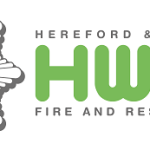 Hereford & Worcester Fire and Rescue Service
District Administrator
£19,650 – £20,043 per annum
37 hours per week
Fixed Term Contract (two years)
West District Headquarters, Hereford Fire Station
An opportunity has arisen for a District Administrator, based at Hereford Fire Station. This is a fixed term contract for two years.
The role of District Administrator is to provide a comprehensive administrative and secretarial style support service to District and Station staff, including co-ordinating meetings and appointments and word-processing a range of documentation.
Skills and Experience
– GCSEs at Grade C or above to include English (or equivalent qualifications or experience)
– OCR Text Production and Word Processing Level 2 (RSA II)(or equivalent qualifications or experience)
– Experience gained in general administration
– Experience of liaising with the general public
– Good communication and interpersonal skills
– Accuracy and attention to detail
– A pleasant telephone manner
– The ability to organise and prioritise work and meet deadlines
– The ability to deal sensitively and appropriately with confidential information
– The ability to work unsupervised, and to exercise and rely on own judgement where necessary
– Competent word-processing skills
– A good working knowledge of Microsoft Office
About Us
Every day we're helping to save lives and keep the community safe – and not only by fighting fires. Behind the scenes at Hereford & Worcester Fire and Rescue Service, there are lots of other roles that people don't see, helping to provide vital functions to keep us an efficient and effective Fire and Rescue Service.
Reasons to Join Us
24 days annual leave entitlement increasing to 29 days after five years' continuous service (plus bank holidays).
Access to a local government pension scheme.
Flexi-time scheme allowing you to have an element of flexibility over your working hours and place of work (home / office) after successful completion of the probation period.
Free car parking at Service Headquarters and across our 25 fire stations.
For any further queries regarding the role, please contact Group Commander Gareth Clarke on 07800572116.
The closing date for applications is Monday 29th August 2022
Interviews will take place on Friday 9th September 2022
Please note, the successful applicant will be subject to a basic DBS check as part of the pre-employment process.