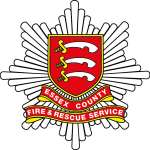 Website Essex County Fire and Rescue Services
Project Manager (Innovation & Change)
Permanent
Working Hours: 37 hours per week (we are open to
discussions about working hours
and patterns)
Grade: 10
Salary: £43,570 – £48,583 per annum +
£13,071 (30% on costs) + Market
supplement @ £2,834 (in line with
other PM posts, to be reviewed in
January 2023)
Location: While the role will primarily be based
flexibly from Service HQ (Kelvedon) and
from home, there may be a requirement
to travel around the county and attend
Service premises
Are you a change professional looking for a new challenge? Do you enjoy taking brave decisions and leading change? Do you want to play an essential role in making the county of Essex a safer place and the best Fire and Rescue Service in the country? If so, we want to hear from you.
We are excited to have a formed Portfolio of Change. This means we understand what we are investing in, and the benefits it will deliver for the Service. We are now seeking to appoint a Project Manager who will manage projects to deliver the change successfully.
The successful candidate will be part of a team of experienced Project Managers who form part of the broader programme management team. The team are a high performing, supportive and inclusive team, working on technology and business projects across all areas of the Service. You will be working in close collaboration with a wide variety of stakeholders and representatives from across the Service and other partners and agencies.
Ultimately you will be responsible for ensuring the successful delivery of projects by applying appropriate project management techniques, using effective communication, stakeholder management and engagement approaches, and utilising our standard project delivery tools.
The right person
This role will be perfect for you if are inspired by the opportunity to use your expertise in project delivery, innovation, and change management.
You will have experience of managing and delivering multiple projects, with a track record of success using both a variety of delivery methodologies and change management approaches.
You will have the appropriate qualifications (such as Prince2 etc), a positive approach to delivering change while supporting your teams, and track record of successfully delivering projects.
The role
You will manage and co-ordinate the activities of project teams to deliver the change required to help us meet our key objectives. Reporting to the Programme Manager, the role is a vital delivery role that will need to support and influence others, including senior stakeholders.
This is a fantastic opportunity to join a Service that not only looks for people who will thrive in their environment, but for people who love working collaboratively and can demonstrate the innovative, efficient, agile, and responsible mind-set they aim to bring to every interaction.
How to Apply
To apply, please upload your CV. You may also add a short supporting statement detailing why you are the right person for the role. Once you have done so, please click Apply.
On receipt of your application, we will arrange an initial conversation with you, and following that conversation if you are suitable, we will invite you to an interview and assessment process.
Initial Closing Date – 5pm Friday 2nd September 2022
If you do have any questions about the role, please contact Peter Morath, Programme Manager, by email to peter.morath@essex-fire.gov.uk
Our Culture and Benefits
Here at Essex County Fire and Rescue Service we are committed to prioritising and promoting the wellbeing of our employees. Some of our benefits include:
Flexible working hours
Remote working opportunities
Wellbeing and counselling services
Physiotherapy services
Affiliation with the Blue Light Card scheme
Generous annual leave
Competitive pension scheme
Career development opportunities
About Us
Essex Police, Fire and Crime Commissioner Fire and Rescue Authority is committed to safeguarding and promoting the welfare of children and vulnerable adults and expects all employees and volunteers to share this commitment.
It is our policy to require all applicants for employment to disclose if you are currently being investigated by any regulatory body or have any decisions or sanctions pending or in progress in respect of your suitability to work for the Service.
You agree to inform the Service within 24 hours if you are subsequently investigated by any agency or organisation in relation to concerns about your behaviour towards children, young people or vulnerable adults.
The information you provide will be treated as strictly confidential and will be considered only in relation to the appointment for which you are applying.
We are an equal opportunities employer who welcomes applications from everyone and values diversity in our workplace. A commitment to promoting diversity and developing a workplace environment where all staff are treated with dignity and respect is central to our recruitment process. All applications will be considered solely on merit.