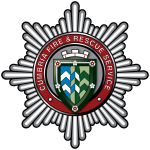 Website CumbriaFire Cumbria Fire & Rescue Service
This opportunity is for current Cumbria County Council staff to become On-Call Firefighters and provide operational cover by working in or near to an On-Call Fire Station.
Internal On-Call Firefighters would have 2 separate contracts and positions on iTrent. One reflecting their responsibilities on their Green Book contract and one reflecting their responsibilities on their Grey Book On-call contract. They will be contracted for a specified number of hours per week.
On-call firefighters work as part of a team using the latest equipment and life saving techniques to attend property fires farm incidents road traffic collisions chemical spills animal rescues floods storm damage and many other types of incidents.
Work base – Employees' contractual work base on their Green Book contract would remain the same. However individuals in agreement with their Line Manager could work at or within close proximity to an On-call fire station to provide availability to respond which would mean flexibility on all parts and reduce the need for changes to travel arrangements and the costs associated with this.
Response arrangements – During their agreed hours when a 999 call is received individuals are alerted via their pager and must be available to respond within the required timeframe.
Initial application – You will be required to complete the online On-Call Firefighter application form and attach an availability form and the line manager approval form.
Application closing:     1st June 2020
Practical selection tests:     22-25 June 2020
Interviews:     1st Jul 2020
Medicals:     Jul/Aug 2020
Induction day:     3rd Sep 2020
Training course:     7th – 19th Sep 2020