On Friday, 7th October Lancashire Fire and Rescue Service Training Centre supported and hosted an event 'Embrace the pace of your own journey', organised by Women in the Fire Service (WFS) Regional Rep, Jenny Nangle. It was the first-ever training and development event from the WFS Northwest Region. Jon Charters, Assistant Chief Fire Officer, opened the event and it was supported by Group Manager – Corporate Programme & Intelligence and Women and Families Chair, Tom Powell.
Delegates from a number of Fire and Rescue Services in the Northwest of England and beyond, were given space to explore and develop skills and importantly to try something new. Incident Command, Fire Investigation, Preparing for Promotion/Interview techniques and Urban Search and Rescue workshops were delivered, alongside hearing from inspirational speakers, Lancashire Fire & Rescue Service Group Manager, Caroline Harrison, and Chief Fire Officer Dawn Docx of North Wales Fire and Rescue Service.

The WFS event was open to staff at all services within the Northwest Region and thirty colleagues from Lancashire, Greater Manchester, Cheshire and Cumbria attended.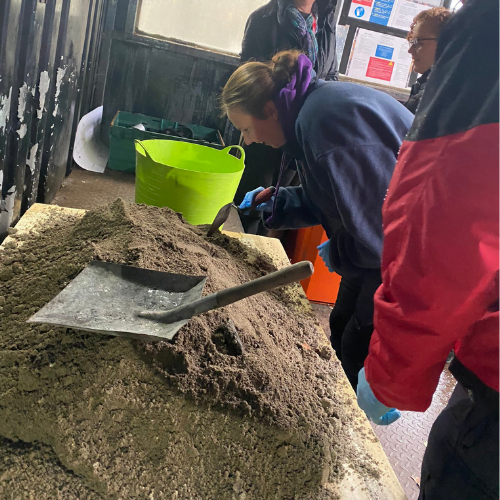 Laura Wheelton, a Fire and Leadership Studies Graduate who was recently promoted to Wholetime Crew Manager at Cheshire Fire and Rescue Service, said:

"It was a fantastic day with some really interesting workshops on offer and I certainly took a lot away from the fire investigation and interview preparation workshops. It was a great opportunity to make connections, lovely to see familiar faces as well as meeting some new people!"
Mohammed Dhalech, Equality, Diversity and Inclusion Manager at Cumbria Fire & Rescue Service who attended as a delegate said:

"It was a great day with some amazing workshops, I got a lot of learning from the Incident Command Workshop. Thanks for a productive and great day.
Sarah Holden is a Wholetime Crew Manager and Cadet Instructor at Lancashire Fire and Rescue Service. She is also a WFS Local Rep.

Sarah said: "Such an amazing day attending workshops and meeting so many brilliant people, finalising in some very inspirational speeches."
WFS Regional Rep and Fire Safety Inspector at Lancashire Fire and Rescue Service, Jenny Nangle said: 

"After the WFS National Training and Development Event in June, I set up a Northwest group on Facebook to help people connect. Due to demand, the first event was launched. 'Embrace the pace of your own journey' was a great success thanks to everyone involved from the trainers and delegates to all the Service staff.  The event culminated in amazing speakers, an inspiration for everyone. The aim now is to run an event every six months within the region, so if you missed out there will be more!"
You can join the WFS Northwest Regional Group on Facebook here.