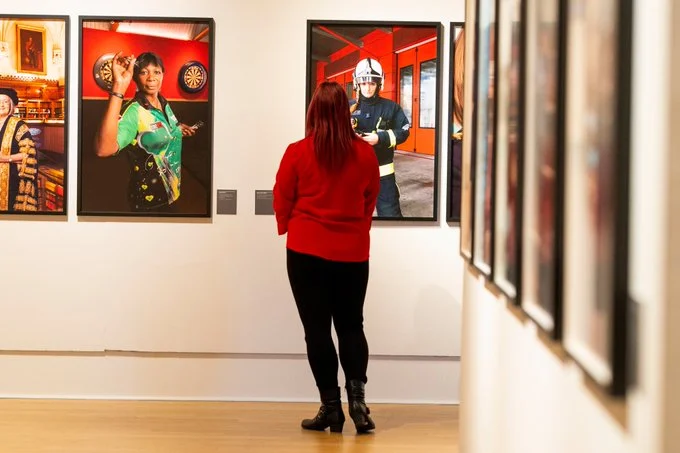 Photographer Anita Corbin has created a unique collection of 100 portraits of 21st-century women – celebrating those who have pushed boundaries to achieve ambitions in their field. The 10-year project includes trailblazer and Patron of Women in the Fire Service UK, Dany Cotton.

Dany, Chief Commissioner of London Fire Brigade is well-known and admired for showing what can be achieved if we challenge ourselves and the society we live in.
"I want to share their inspiration with as many people as I possibly can. These stories can open up the aspirations of the next generation, and capture what can be achieved when strong people dare to say yes to their dreams."

– Anita Corbin
We caught up with Anita, who gave us an insight into the story behind Dany's portrait.
"I photographed Dany in May 2016 at The Old Kent Road Fire Station.
I had been wanting to include Dany in the collection for a couple of years and it was very rewarding to finally have a date in the diary. I arrived early at the station so I could have a look around, there was a strong sense of camaraderie and an air of anticipation… Dany would arrive soon!
At just about the same time as Dany arrived there was a 'shout', this was very exciting for me as I saw firefighters in action. I'd never seen that before or felt the atmosphere change to a serious and intense one as the fire became more demanding across the other side of London.
However, at this point, I told I was able to continue with the First Women Portrait set up, so I chose an outside location with the bright red doors of the station behind – which opened to release the flashing tenders as they went off to the Fire.
Dany needed to be fully kitted out, just in case she was needed to take control of the incident. Her assistant helped with all her safety gear and then very kindly also helped hold my light. This was the perfect scenario for me, as I am passionate about creating images of real women and this moment was certainly very real!
I started shooting immediately, knowing that Dany could have to leave at any moment if 'it went to 16 tenders'. Dany remained calm on the outside, listening intensely to her radio as the incident unfolded. She was very focused and I wanted to capture the seriousness of her role and the responsibility she held for the safety of London.
The composition of the image is very stable, Dany exudes trust, she is grounded. I love the fact that the portrait captures the palpable intensity of her role through her eyes, and the fact you can see her plait under her helmet.
She is the First Woman to be Commissioner of the London Fire Brigade in 152 years and the First Woman to be awarded the Queen's Fire Service Medal in its 50-year history."
Like this story? Get our newsletter straight to your inbox. Sign up for news from Women in the Fire Service UK.
The First Women Exhibition is currently on tour with dates through to late 2020.