In 2017 a small team from Operation Florian visited Lebanon to deliver fire prevention training to a range of NGOs (non-governmental organisations) hosted by Save the Children. This was designed to embed fire safety awareness in their work supporting Syrian and Palestinian refugees living in ITS (informal tented settlements) and SSB (sub-standard buildings) as it had been identified that fire safety and education within the camps was extremely poor.
While firefighting media such as extinguishers, beaters and fire hooks have been provided and training sessions delivered by the NGOs in relation to fire safety, there was concern that further evaluations were needed with women and children.
Operation Florian subsequently contacted WFS UK for assistance in providing some gender specific fire safety research and after submitting a successful bid for funding with the Worshipful Company of Firefighters a revisit to the area was planned under the umbrella of Fire Aid to continue work with Save the Children.
In January 2019 a small team from Fire and Rescue Services across the country travelled to Lebanon. The team was made up of 5 women from different roles bringing years of operational experience and skills in the training and development of firefighters as well as extensive knowledge and expertise in fire safety, fire behaviour, child psychology, education, diversity and inclusion. TGM Steve Jordan from Greater Manchester FRS accompanied the team having led on the Operation Florian trip in 2017; two of the ladies within the team had also been on the 2017 trip and were able to provide a valuable insight into the challenges faced by the refugees in the camps.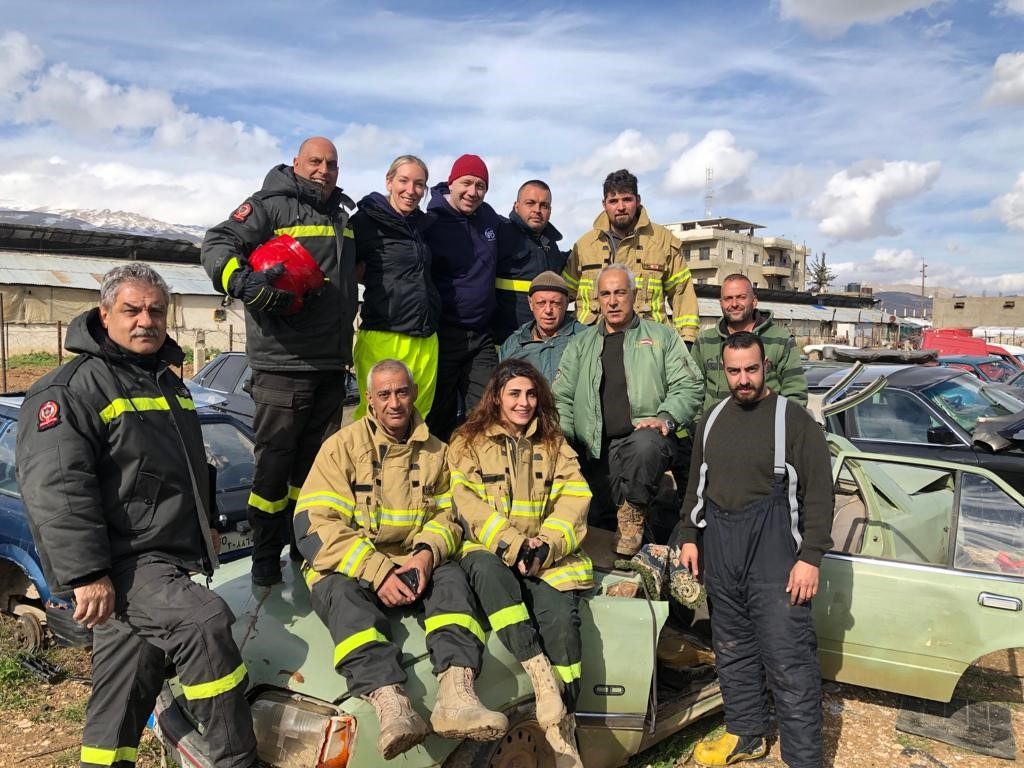 Beirut is a huge city with around 2 million people and it seems as many cars! It sprawls for miles along the mountainous Mediterranean coast and there is much renovation and rebuilding taking place after years of civil war creating an impressive skyline of modern tower blocks alongside traditional buildings, many still bearing stark reminders of the past. Networks of narrow streets within the city lead to wide highways with it seems, calm courtesy to other drivers being the only rules of the road – at times chaotic and a little nerve wracking!
At the beginning of the week the team met with Save the Children to learn from the shelter team how the fire safety recommendations made by the 2017 Operation Florian team were being implemented. It was clear that Save the Children's education packages have developed greatly and these were being shared with other NGO's and cascaded out to the camps. There are around 1.5 million Syrian refugees in Lebanon with over half being children. Many live in informal tented settlements, with those able to afford it living in sub-standard buildings some in a reasonable state of repair, others not so. It was encouraging to learn that while multiple families are living together in these buildings Save the Children deliver fire safety checks and provide smoke detectors and fire extinguishers.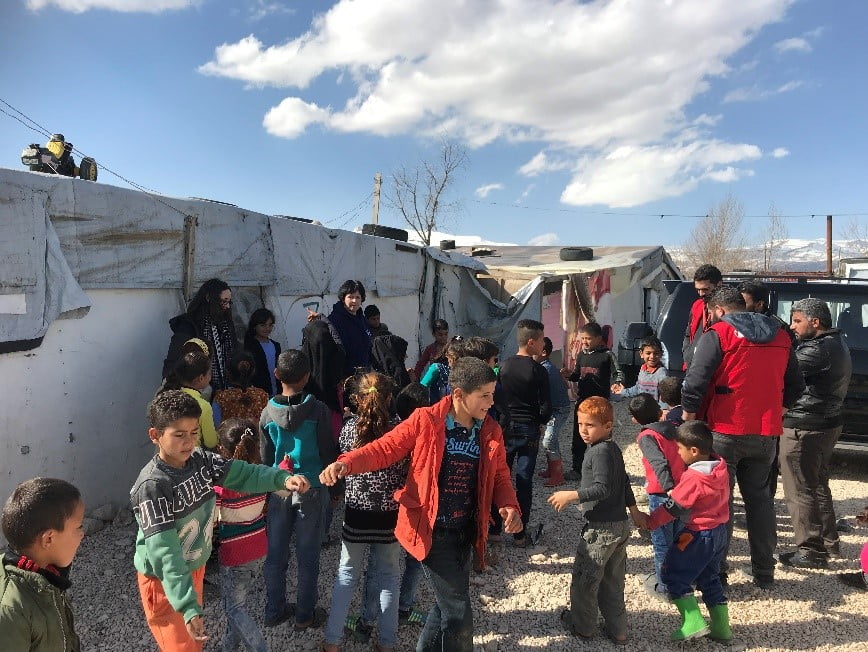 Those living in the informal tented settlements are not so fortunate. The team visited 6 different camps all with their own challenges. The largest had over 200 tents, each tent providing shelter for several families. Save the Children or other agencies provide some basic protection such as plastic sheeting and the families gather wood and other building materials from where they can to build their homes. This last winter presented further challenges for the families as there has been unusually heavy rainfall which caused devastating flooding in the camps of up to a meter soaking beds, blankets, wood and clothing.
The team spent time in the camps talking to the refugees with the aid of an interpreter and it was clear to see how desperate their situation was. Many of those we spoke to had good knowledge of what to do in a fire and how to treat minor burns which was comforting, however their main concern was with the electrics in the settlements. Lebanon's electrical infrastructure is fragile and many camps only have power for 4 – 6 hours a day. Illegal connections made to national power supplies lead to dangerous electrical cables trailing all over the tents with exposed wires, overloaded sockets and misuse of electrical equipment creating high risk of fires and electrocution.
Many of the families we met had been living in these tents for years. Considering the crisis started 8 years ago, it is difficult to imagine how they must feel after the traumas they have had to endure in leaving their own country with only what they could carry to find safety and shelter in a strange environment. We were touched by their friendly welcomes, happy to show us their homes and give us the opportunity to speak with them.
Regrettably the situation is not going to get any easier, increasing population within the camps and limited opportunities for camp expansion means some families are building a second floor to their tents creating huge risks in terms of health and safety and in particular fire safety. Managing such conditions is a huge challenge for the NGO's and one which the team were able to discuss at a presentation of their findings with the In-Country Director of Save the Children at the end of the week's research.
While 4 of the team were out in the field working with Save the Children, TGM Steve Jordan and CM Alison Stone from Hampshire Fire and Rescue Service visited fire stations in Beirut and Zahle at the invitation of the Head of Training for the Lebanese Civil Defence. Currently nearly all firefighters in Lebanon are volunteers and deliver a service to their communities with minimal resources. For example; in one of the stations where they had 25 firefighters there were only 7 sets of fire kit to share. With a great deal of hard work by Steve Jordan and with transportation costs being picked up by Save the Children, a container of decommissioned kit including; old boots, helmets, tunics, leggings and RTC kit has recently arrived in Beirut which will be distributed to some of the 200 fire stations across Lebanon providing firefighters with much needed PPE.
Alison was able to spend some time with firefighters learning about their incidents and how they manage with the limited equipment and resources they have. Alison was also able to share some of her vast knowledge and experience with the crews so promoting women in operational roles. Alison was also able to facilitate an RTC training session with some of the firefighters which enabled one of the female firefighters the opportunity to get hands on with the cutting tools – something she had not done before.
Some of the team were also invited to the British Embassy to speak about the gender project with Save the Children in the refugee camps and the importance of the relationship with the Lebanese Civil Defence. All parties hoping that there will be further projects in the future.
The week we spent in Lebanon was hard work with long and difficult days, followed by discussions and report writing late into the evenings but it has been a great experience. As always I am inspired by the incredible women I am lucky enough to work with, their knowledge, professionalism and expertise made me so very proud. I know that our visit will have made a difference not only for those refugees living in such desperate conditions, but also to the firefighters on stations with their limited resources. Relationships with Save the Children, the Lebanese Civil Defence and hopefully the British Embassy will continue to grow and with this in mind we are hoping that two female firefighters from one of the stations visited will be able to attend the WFS training and development weekend in the summer to further their knowledge and experience and continue to develop our relationships with international fire services.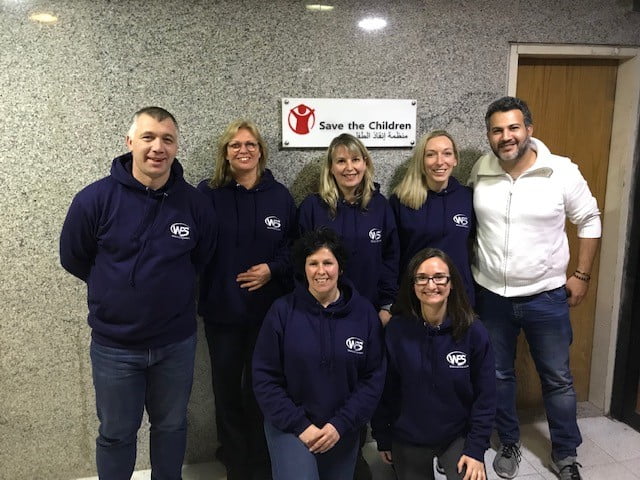 ---